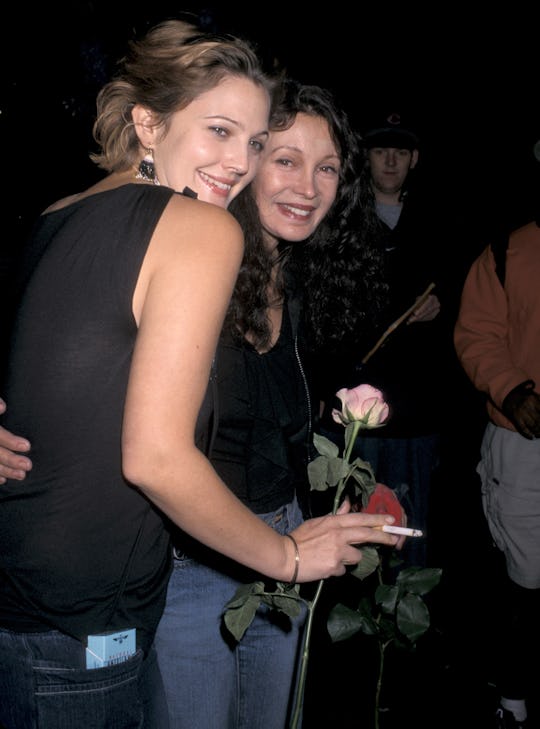 Carmen Valdes/Ron Galella Collection/Getty Images
Drew Barrymore Shares Emotional Text From Her Mom That Made Her "Revert Back To Small"
"The fact that she loves me with my truth and my honesty is the best time I have ever heard her say it."
Drew Barrymore is objectively a successful person. She's a talented actress, she's co-parenting two daughters, she has a hit talk show, a magazine, a very funny Instagram page. Barrymore exudes confidence in her life and her choices, and yet a sweet text from her mom telling her that she loves her is still the "biggest gift" she could hope to receive. Perhaps especially after their fraught, difficult past.
In a recent interview with Vulture, Barrymore talked about a recent text exchange she shared with her mom that left her feeling happy and emotional. The actress famously emancipated herself from both her mom Jaid and her dad John Barrymore when she was 14 years old, but she has worked to stay in contact with her mother despite their history; her dad John died in 2003.
"I texted my mom for her birthday and she told me she loved me and she was proud of me," Barrymore told Vulture. "I don't care how old you get or how big your mission is, when your mom tells you she loves you, you revert back to small. And the fact that she loves me with my truth and my honesty is the best time I have ever heard her say it."
The mom of two wrote a Mother's Day post on her blog last month about becoming "my own parent" after being left largely to her own devices at just 14 years old. "When I got emancipated by the courts at 14 years old, the umbilical cord was severed, and I have not been the same since. It was necessary for me to step away and start to become my own person. And at the age of 14, my own parent." She went on to note that her own daughters, 10-year-old Olive and 9-year-old Frankie, have inspired her to live a cleaner lifestyle while motherhood "triggers everything from my own childhood now." She added, "I live in an often-petrified state of thinking about my past and wanting to have things different for them. I want them protected."
While Barrymore might still wrestle with demons from her complicated upbringing, that text from her mom helped her find her way to forgiveness. "I was really excited I could tell you I've done some serious work and I do feel different," she told Vulture. "I forgive my mom. I forgive my dad. I've never forgiven myself, but I'd like to and I'm ready to."
Sometimes all it takes is for your mom to say she loves you. And for you to believe her.