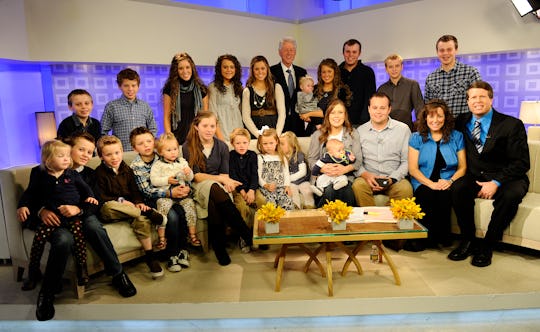 NBC NewsWire/NBCUniversal/Getty Images
A Complete Guide To All The Duggar Family's Children & Grandkids
It's a lot to keep track of...
For years, the Duggar family, led by parents Jim Bob and Michelle, was a mainstay of the cable TV and tabloid media. Their show, 19 Kids and Counting, which ran from 2008 to 2015, was one of the most popular programs on TLC. A spinoff series, Counting On, focusing on the older children getting married and starting families of their own, ran from 2015 to 2020. Now, a new Amazon Prime documentary Shiny Happy People: Duggar Family Secrets will take a look at the family's connection to the controversial Christian organization Institute on Basic Life Principles (IBLP) as well as the darker side of the series. Here's what you need to know about the Duggar family tree before watching...
Jim Bob and Michelle Duggar have 19 children and 28 grandchildren.
Michelle Duggar had a child approximate every 18 months from 1988 to 2009. In addition to their prodigious brood of children (which includes two sets of twins) and grandchildren (the oldest was born in 2009 and the youngest in 2023), the couple has also been raising their great-nephew, Tyler Hutchins, since 2016.
Joshua
The disgraced eldest child of the Duggar family, Josh was born in 1988, approximately four years after his parents' marriage. He got married himself at the age of 20 to Anna Keller.
The pair have seven children, all of whose names begin with "M" in honor of his mother, Michelle: Mackynzie (2009), Michael (2011), Marcus (2013), Meredith (2015), Mason (2017), and Maryella (2019), and Madyson (2021). Josh is currently serving a 12 year prison sentence after being found guilty of possession of child pornography. He and Anna remain married.
Jana
The eldest Duggar daughter, Jana (who is twin to her brother John David) was born in 1990. She is not married and doesn't have children. Though she has a social media presence, she hasn't posted on Instagram in over a year, but as of 2022 appears to have a relationship with her parents, siblings, and nieces and nephews. She lives in Arkansas in a tiny house on her parents' property and still helps in the care of the younger children.
John
All of the Duggar children were homeschooled in keeping with the teachings of the Institute on Basic Life Principles, and regularly attended homeschooling conferences. John (born in 1990) and his wife Abbie Burnett attended many such conferences growing up, but didn't officially meet until 2018. They were married within six months. Their daughter Grace was born in January of 2020 and their son Charlie was born September 2022. Abbie is a Licensed Practical Nurse, though is not working outside the home and John is a pilot and real estate investor.
Jill
Born in 1991, Jill met her husband Derrick Dillard on a mission trip in Nepal and were married within seven months in 2014. They have three children, Israel (2015), Samuel (2017), and Frederick, whom they call Freddy (2022). According to a video the couple posted in 2021, they have been estranged from her parents for "years," with Jill noting "there are a lot of triggers" at her parents' house and that "in this season of life we have to prioritize our mental and emotional health." The issue appears to stem from disagreements with Jim Bob regarding Counting On. "I saw a whole new side to my dad once my husband and I started making decisions that were best for our family, but not in his best interest," she said in a 2021 legal deposition. "Sadly, I realized he had become pretty controlling, fearful and reactionary. He was verbally abusive. Our relationship is not good. It got pretty toxic." She has recently announced the publication of a memoir, Counting the Cost.
Jessa
Born in 1992, Jessa married her husband Ben Seewald in a large ceremony (about 1,000 guests!) on Nov. 15, 2014. Since then the pair have welcomed four children: Spurgeon (2015), Henry (2017), Ivy (2019), and Fern (2021). The family live in Arkansas in a house they bought from Jessa's grandmother. Jessa is a stay-at-home mom/influencer and Ben is a pastor.
Jinger
Born in 1993, Jinger met her husband Jeremy Vuolo on a mission trip in Central America in 2015 and married in November 2016 after a lengthier-than-average courtship (at least by Duggar standards). The pair have two children, Felicity (2018) and Evangeline (2020). Though still devoutly Christian, Jinger condemned the religion of her childhood as cult-like, superstitious, and fear-based in memoir, Becoming Free Indeed: My Story of Disentangling Faith from Fear. Unlike most of the Duggar children, Jinger and her family live don't live in Arkansas; they live in Los Angeles.
Joseph
Born in 1995, Joseph called Joe, married Kendra Caldwell in September 2017 and within a few months announced they were expecting their first child. Garrett was born in 2018, followed by Addison (2019) and Brooklyn (2021). Kendra is a stay-at-home mom and Joe works as a handyman for his family's various real estate properties. He also has his Real Estate Brokers License.
Josiah
Born in 1996, Josiah married Lauren Swanson in 2018 in a ceremony that aired on Counting On. They have one child, Bella, born in November 2019. Lauren is a stay-at-home mom and Josiah is a contractor, pilot, and car dealer, according to the latest update on the Duggar family website.
Joy-Anna
Generally just referred to as Joy, the ninth Duggar child, born in 1997, married Austin Forsyth in May 2017 after a six month courtship. The wedding, which was attended by about 1,000 guests, aired on Counting On. Their first child, Gideon, was born in 2018. In 2019, during a routine 20-week ultrasound, Joy discovered their second child, a girl named Annabell, had no heartbeat. Two more children followed, Evelyn (2020) and Gunner (2023). Austin is a contractor and Joy is an influencer and stay-at-home mom.
Jedidiah
Jedidiah, called Jed, was born in 1998 and unsuccessfully ran for State Representative in Arkansas' District 89 in 2020, the same area Jim Bob served from 1999 to 2002, as a Republican. He lost against the incumbent Democrat by 10 percentage points. In 2021 he married Katey Nakatsu and they welcomed their first child, Truett in May 2022. In December 2022 they announced they were expecting their second child in May 2023, a girl they would call Nora.
Jeremiah
Jed's twin brother married Hannah Wissmann in March of 2022. Their only child, Brynley was born on Christmas day in 2022. Like some of his older brothers, Jeremiah is a pilot and a contractor, but he's also a certified flight instructor and has his Commercial Driver's License (CDL).
Jason
Jason, born in 2000, is one of the few adult Duggar children who is not yet married. He, too, seems to have gotten into the family business of real estate and house flipping and owns a construction company. He also loves singing and says he will "add a tenor part to just about anything."
James
James, born in 2001, is described on the Duggar website as "the rancher in the family." He, also, is learning to become a pilot and has his CDL.
Justin
Even by Duggar standards, Justin, born in 2002, was married young. He began courting his wife, Claire Spivey when he was just 16 and became engaged a day after his 18th birthday. They were married in 2021 and were the first of the Duggar kids not to have their wedding featured on Counting On.
Jackson
The youngest Duggar son, Jackson, was born in 2004 and was the first to have his birth aired on television as part of the Duggar's first TLC special 14 Children and Pregnant Again! The family website describes him as a talkative and outgoing risk-taker.
Johannah
The first girl after six brothers, Johannah, born in 2005, her birth was filmed for the TLC special Raising 16 Children. She has been compared in both appearance and temperament to her spirited oldest sister, Jana.
Jennifer
Described as an avid animal lover, Jennifer, born in 2007, is called Jenni by her family. Child #17, her birth was filmed for a television special and she was the youngest child when the family got their own series — 17 Kids and Counting — on TLC.
Jordyn-Grace
Born in 2008, Jordan-Grace is described by her family as a cautious child who loves fashion, art, and babies. (There are certainly plenty around for her to fawn over.)
Josie
The final Duggar child was born prematurely in 2009. At 25 weeks gestational age, she weighed just 1 pound 6 ounces, according to the family website. This prompted many of the Duggars to move to be closer to the NICU in Little Rock, Arkansas. She graduated from the NICU in April 2010. She is described as spunky and loves music.
And there you have it! Just a super-fast breakdown of this simple family of 50... and, as ever, counting.