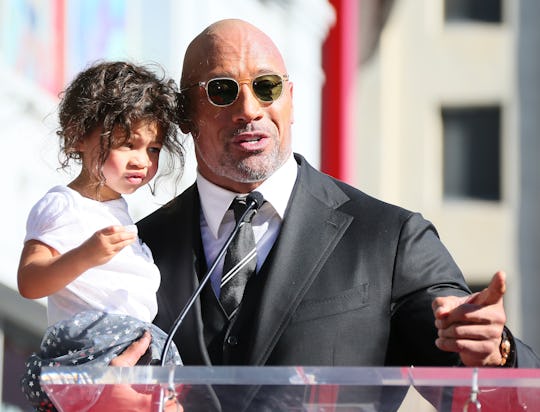 JB Lacroix/WireImage/Getty Images
Dwayne "The Rock" Johnson's Daughter Gave Him A Manicure & Things Got Wildly Out Of Hand
She did appear to deliver on the manicure. And oh so much more.
It's fair to say that Dwayne Johnson is a heavy hitting celebrity. The Rock has an Instagram following of 371 million people, he's been in several blockbuster movies, he's well respected among his peers. But then... he goes home. No longer a celebrity with massive clout, and instead he serves at the behest of his daughters. And they have no problem taking full advantage. Like when one of his daughters recently decided to give him a little manicure, for instance. It got wildly out of hand very quickly. But was he concerned? Not remotely.
The Black Adam star took to Instagram on Tuesday to share a sweet moment he recently enjoyed with his daughter. As a proud girl dad of 21-year-old Simone, 7-year-old Jasmine, and 5-year-old Tiana, he is presumably no stranger to a little home spa treatment every now and then. So when he recently was asked by his daughter (probably his youngest Tiana judging from the photos) if he wanted a manicure, he settled in for a bit of pampering. Or as he described it in the caption, "What starts off as 'Daddy it'll just be a manicure.'"
She did appear to deliver on the manicure. And oh so much more.
Johnson's daughter looks to be delicately painting her dad's nails as he sits perched on a child-sized chair, but she seemed to have accidentally gotten nail polish elsewhere. Like all over his head. And neck. And face. And lips and a little on his shoulders. Plus she added a twirly mustache in black marker for a bit of extra panache.
This dad of three is no stranger to living at the whim of his daughters. For example, he recently came home from a work trip to find a hairless guinea pig running around a homemade obstacle course with a case of the zoomies. Or when he sat patiently as his daughter "cleaned" his tattooed muscles.
This isn't even the first time he's had his nails done by his daughter. In 2018, Jasmine painted her dad's nails, and no offense but she was considerably neater when she did it.
No matter what they're doing together, Johnson is always all in with his girls. Even if it means he'll spend the next month trying to get hot pink nail polish off his face.