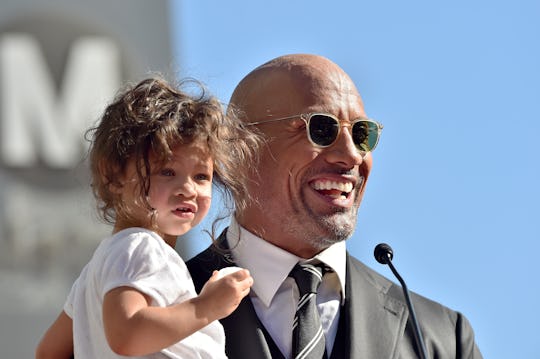 Axelle/Bauer-Griffin/FilmMagic/Getty Images
Dwayne "The Rock" Johnson Is Every Dad Coming Home To New Pets In This Hilarious Video
Welcome "Popo," the hairless guinea pig with a case of the zoomies.
You know what they say. When the cat's away, the mice will play. Or perhaps in this case, when dad goes away for three days, we're going to get ourselves some pets and he can't do anything about it. It's not as catchy but that's exactly what Dwayne "The Rock" Johnson is currently experiencing. He recently went away on a business trip and came home to find two new family members had moved in. And let's just say, he's struggling a bit with this latest development on the home front.
The Moana star's two younger daughters, 7-year-old Jasmine and 5-year-old Tianna, both of whom he shares with wife Lauren Hashian, got up to some adventures when he was recently away for work. Presumably with their mother as an accomplice since, generally speaking, at least one parent needs to give the stamp of approval for any new animals entering the family domicile. And Hashian seems to have given two stamps of approval for two guinea pigs. Hairless guinea pigs.
Johnson shared a video on Instagram of one of his new family members experiencing a case of the "zoomies" to the sound of The Backyardigans singing "Into The Thick Of It!" as he looked on helplessly.
"I'm gone for a 3 day business trip and come back to two new surprise family members (the other one is hiding in her cage)," he captioned the video. "'Popo' the hairless guinea pig, we just adopted from the Humane Society has the 'crackhead zoomies' in her new obstacle course the girl's [sic] made for her."
So why is Johnson so bothered by two sweet little guinea pigs running around in their personal obstacle course? He explains, "They eat & poo. All day. Everyday. For life. Just. Great."
While Johnson was perhaps looking for a bit of sympathy on social media, most people just seemed really excited to see a cute little hairless guinea pig running around an obstacle course made out of a kiddie pool in his living room. "Hang in there!! They just create so much mess but they undeniably adorable!!!" wrote one social media user, while Olympic skier Lindsay Vonn simply wrote "Hahahahaha."
Anyone who follows Johnson on social media knows he will of course be totally accepting of anything his daughters do. As a dad of three, including 21-year-old daughter Ava with ex-wife Dany Garcia, is all about spending time with his kids. Whether he's playing Barbie with his daughters, sitting down for a backyard tea party, or, as will be the case now, cleaning up guinea pig poo, he's just happy to be with them. Although the guinea pig poo might take some getting used to.