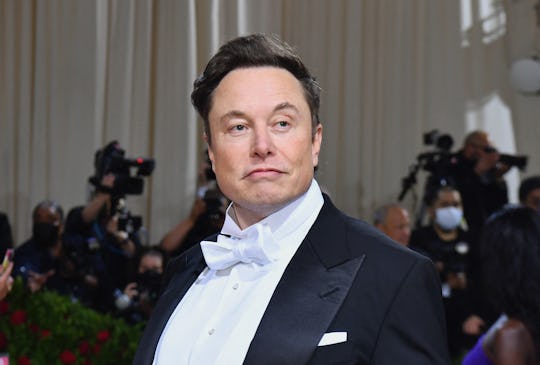 ANGELA WEISS/AFP/Getty Images
Elon Musk's Child Files To Change Name, No Longer Wants To Be "Related" To Father
She cites gender identity and no longer wanting to be related to her biological father "in any way, shape or form."
On Sunday, Father's Day, billionaire Elon Musk tweeted a simple message of love out to his eight children. But it would seem his relationship with at least one of his adult children is rocky, to put it politely. Documents obtained by multiple outlets show that one of Musk's two eldest children has filed a petition in Los Angeles superior court for a change of name, recognition of change of gender, and issuance of a new birth certificate.
The petition, submitted April 18, just one day after her 18th birthday, cites the reason for the change to Vivian Jenna Wilson as two-fold: "Gender Identity and the fact that I no longer live or wish to be related to my biological father in any way, shape, or form."
While no reason has been given for the parent/child fallout, Musk has come under fire for a number of transphobic statements over the years, including mocking people who include their pronouns in their Twitter profiles (calling it "an esthetic nightmare"), or simply tweeting out "Pronouns suck" (raising the question — does he refer to people and places and things directly at all times, eschewing "he" "her" "they" or even "it" at all times... that must be exhausting).
Observers have also noted that his tweets have taken a somewhat more political tone in the past few months, often harkening to right-wing talk points including panic over a falling birth rate, particularly among the wealthy, the fall of "civilization," (often used as coded language for Western hegemony and white supremacy) and criticizing environmentalists. Last week he coyly suggested that he supports hard right-wing politicians like Ron DeSantis, who has made national headlines for his anti-LGBTQ+ agenda in Florida.
In a statement to The Daily Beast, Elon chastised the media for picking up on the story, saying "She does not want to be a public figure. I think it is important to defend her right to privacy. Please don't out someone against their will — it's not right."
But as the story gained traction, Justine Musk, Vivian's mother and Elon's ex-wife, shared a conversation she had with one of her two adult children, in which she recounts them feeling pride in being "normal-seeming" despite their "weird childhood."
Justine was married to Elon from 2000 to 2008. The pair, who latest reports indicate share custody, had six children: a boy named Nevada who tragically died of SIDS at 10 weeks old in 2002; followed by Vivian and her twin brother, Griffin in 2004; and triplets Kai, Saxon, and Damien in 2006. Elon has two more children, X and Exa — called "Y" — whom he shares with former girlfriend Grimes.