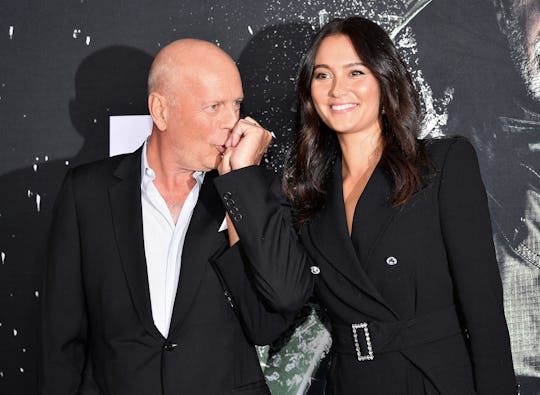 Dia Dipasupil/WireImage/Getty Images
Emma Heming Willis Shares Act Of Kindness That Helped Her Through "Hard" Anniversary
"Don't ask what you can do, just do."
Emma Heming and Bruce Willis celebrated their 14th wedding anniversary, and it seems it was a tough one. A difficult anniversary after two very difficult health issues for the actor, who was first diagnosed with aphasia, a condition that affects cognitive functions, in 2022, and more recently frontotemporal dementia. While the mom of two found herself struggling on their anniversary, a random act of kindness changed the day for her completely. And it was an important reminder that sometimes it's best to simply do something to help rather than asking if help is needed.
"Today marks 14 years of marriage to the greatest love of my life. I woke with my heart full but what my mind kept going back to was another persons act of kindness yesterday I wanted to share as it inspired the heck out of me," Heming Willis captioned a photo of a bouquet of flowers she shared on Instagram on Tuesday.
"In passing at a school event for our children, I mentioned to my friend that our anniversary was tomorrow," she continued. "Cut to, I get a text from my friend later that day that said she left 'a little something' for me at my door. It was this sweet bouquet of flowers (pictured) with a note that said Happy Anniversary amongst other things."
As the actor's caretaker and a mom of their two children together, 11-year-old daughter Mabel and 9-year-old daughter Evelyn, Heming Willis noted that special occasions can be especially difficult. "It got me thinking about how hard these types of 'special occasions' can be on caregivers. When usually our person would acknowledge the event, now their changing brains just can't," her post continued. "And that is what it is. So my point is this. If you know someone that is looking after someone else, don't ask what you can do, just do. This random act of kindness will honestly stay with me for a long time."
Heming Willis also recently celebrated her husband's 68th birthday with his older three daughters, Rumer, Scout, and Tallulah, as well as his ex-wife Demi Moore, who shared a sweet video of the family all together. The entire family was there to celebrate Willis as a dad, husband, and future grandfather to pregnant daughter Rumer's baby. But it is special occasions like anniversaries, which tend to be celebrated between two people, that could certainly be difficult.
As Heming Willis wrote, "don't ask what you can do, just do" for caregivers or anyone else going through a tough time.