MADE OF PLASTIC, IT'S FANTASTIC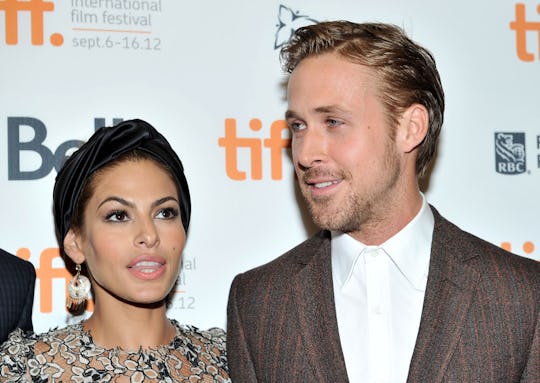 Sonia Recchia/Getty Images Entertainment/Getty Images
We're All Obsessed With Ryan Gosling's Ken Look For The Barbie Movie & Eva Mendes Has Thoughts
The first look at Ryan Gosling as Ken in Greta Gerwig's new movie Barbie left everyone on social media shook. The platinum blond hair, the orange-tinted six pack abs. The personalized boxers. It was a real moment. And Eva Mendes absolutely supported it. She's here for it. And okay, so are we.
Gosling is starring in Gerwig's new movie Barbie, alongside Margot Robbie in the titular role as the iconic doll. Warner Bros. shared a first look at the two on Wednesday on social media ahead of the film's release on July 21, 2023, and Gosling in particular got a big response online. Maybe it was the light washed denim vest and matching jeans, maybe it was the decidedly orange tint of his tan, or his slightly goofy smile or his underwear peaking out with the name "Ken" stitched into the waistband. Whatever it was, Gosling's very un-Gosling-like appearance had people talking. Including Mendes, which was quite a moment since the mom of two rarely discusses her partner in public.
It seems Gosling's Ken-look was simply too good for her not to share.
The Hitch actress shared a photo of Gosling on Instagram with the caption, "So. F. Funny.So. F. Good.So F excited for you to see this...#Thatsmyken." Mendes' social media followers like Rita Wilson couldn't stop gushing over the post, leaving messages like, "I mean…..I really cannot even….this is breaking the internet for sure," and "Exactly YOUR ken."
It would be interesting to find out how Gosling and Mendes' two daughters, 7-year-old Esmerelda and 6-year-old Amada, feel about their dad's new role. Although something tells me we won't be finding out since the couple are intensely private about sharing any information about them. But one thing we know for sure: when Gosling isn't busy being Ken, he's in the trenches with his daughters busting gender stereotypes in the household. "Ryan's the cook. He's an incredible cook," Mendes told People. "I think that there's a really nice balance to 'You cook, I clean.' And it just works for us."
Mendes is all about her husband being a real life Ken doll who cooks and is a good dad. And honestly is there a person alive who can blame her?