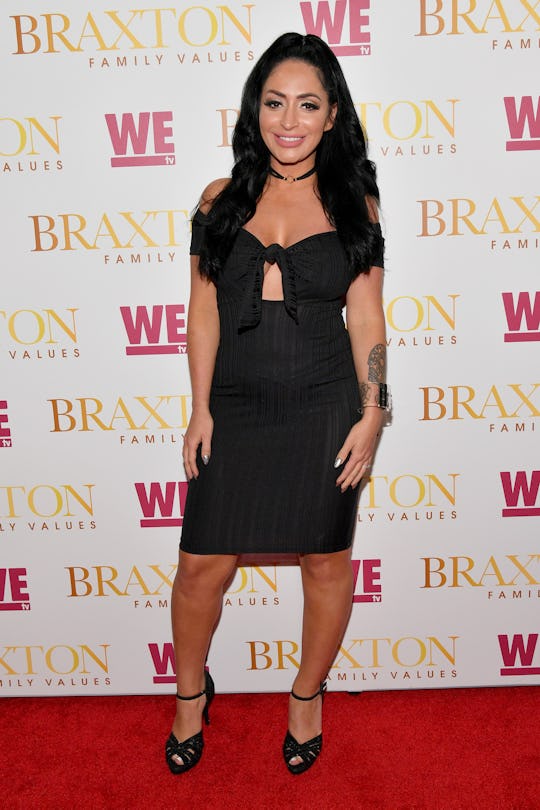 Dia Dipasupil/Getty Images Entertainment/Getty Images
An Old Friend Is Joining The Crew For 'Jersey Shore Family Vacation' Season 2
A new season of Jersey Shore: Family Vacation premieres tonight on MTV and this season one big twist is on the way. Or rather, one person. It was recently revealed that Angelina Pivarnick would be returning for the second season of the series, and while some fans are excited about the news, many are actually upset that Angelina is returning for Jersey Shore: Family Vacation.
In the latest trailer for the new season, Nicole "Snooki" Polizzi reveals that Angelina is joining the group in Las Vegas, which is a surprise for everyone. Though Angelina says in her confessional that she has cleared the air with almost everyone it is clear there are still some issues between her and Jenni "JWoww" Farley. In the trailer, they are seen exchanging blows with each other, and Angelina's arrival also seems to cause a rift between Snooki and JWoww as well.
If you do not recall, during the show's original run Jenni and Angelina did not get along. Then, following Angelina's brief appearance in the first season of Jersey Shore: Family Vacation, Angelina took to Instagram where she threw shade at Jenni, tagging her in a photo that said, "Jersey Wh*re."
In an exclusive cast interview with Us Weekly, Angelina did say she should have never posted the photo, though she has not taken it down. Regardless, Jenni claimed that her issue with Angelina was not even about the photo. "I'm protective of my roommates. The thing with Angelina was real and it's been going on for years," Jenni said in the interview. "But when [Nicole] invited her to Vegas, the real-life stuff was happening with Ron and I was just like, 'This is weird for an outsider to be involved. Literally in the middle of Ron dealing with this craziness and we're just going to have this chick walk in and now she's going to have to deal with it? It was bad timing on all our parts."
Surprisingly, Angelina actually agreed with Jenni, saying she understood where Jenni was coming from. "We're taking baby steps — very little, tiny baby steps into getting to know each other," Angelina said about her relationship with Jenni today. Although that may be true, Jenni did also point out that Angelina's arrival did cause her and Nicole to fight for the first time in years.
Even though Angelina is being blamed for causing drama in the new season, a lot of the drama also centers around Ronnie and his "baby mama," Jen Harley. In the trailer, it is revealed that Ronnie is in the middle of a nasty custody battle and Jen also shows up in Vegas. Whether she went with the group or her appearance was surprise remains to be seen, but she and Ronnie get into it and it doesn't end well.
The pair end up arguing and Ronnie tells her, "You are driving me crazy!" Jen responds in kind, saying, "You're a f*cking psychopath!" It then looks like Jen puts her hand in Ronnie's face, turning the conflict physical, and police sirens can be heard in the background. This is not the only time Ronnie and Jen have gotten into it. Back in July, TMZ reported that Jen allegedly dragged Ronnie when they got into a fight on their way back from a barbecue. However, the domestic violence charges were dropped due to insufficient evidence.
The truth is, with or without Angelina, Season 2 of Jersey Shore Family Vacation is going to be one wild ride.