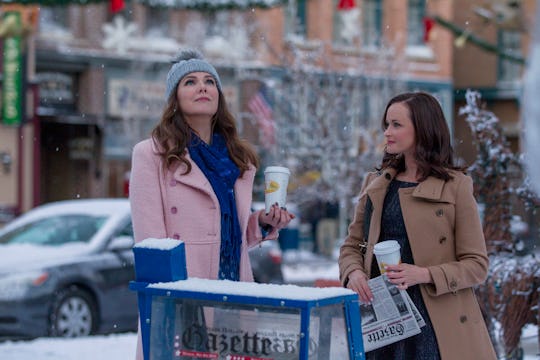 Netflix
We Finally Know Who The Father Of Rory Gilmore's Baby Really Is
And you probably knew the answer all along.
When Gilmore Girls creator Amy Sherman-Palladino finally had the opportunity to share the finale she had always dreamed for Netflix in 2016, you would think every mystery would be solved. After seven seasons and the four-part limited series Gilmore Girls: A Year In The Life, we should know everything, right? Wrong. The last thing Rory Gilmore (Alexis Bledel) says to her mother Lorelai (Lauren Graham) is "Mom? I'm pregnant." And that's the end of it. No clues on who the father might be. Until now. The father of Rory Gilmore's baby has finally been revealed, and probably we knew the whole time.
If you watched the four-part series on Netflix, you'll remember that there were three possible contenders being considered: a man dressed as a Wookie (uncredited), Rory's forgotten boyfriend Paul (Jack Carpenter), and the old boyfriend she never seemed to get over, Logan Huntzberger (Matt Czursky). And it seems one of these men was, indeed, the father of Rory's baby. According to Gilmore Girls: A Year In The Life costume supervisor Valerie Campbell and her trusty use of simple math. Campbell ruled out Rory's boyfriend Paul in an interview with E! because, as she pointed out, Rory "definitely wasn't sleeping with him" since they weren't actually dating. Bye, Paul.
As for the man dressed as a Wookie, Rory's dalliance with him happened during the spring. As she told her mother she was expecting in the fall, she would have presumably been showing. "And we never gave her a pregnancy belly," Campbell noted about Rory's final wardrobe. "We were never instructed to give her one. It is definitely not the Wookie."
That leaves Logan, who visited Rory in the fall for one last tryst and a truly bizarre musical montage you can never unsee. "The only obvious choice is — you guessed it — Logan," Campbell E!. "It was supposed to be very, very, very, very, very obvious."
Looking back at certain clues, it certainly seemed like all signs pointed to Logan. Rory visited her father Christopher (David Sutcliffe) to discuss her mother's pregnancy with her and how it affected him. There has always been a pretty clear line drawn between privileged bad boy Christopher and priveleged bad boy Logan, so that connection made sense. Plus the math adds up and there is a sense of balance in Rory having a baby with Logan after her mother had a baby with Christopher, both men who understand them but can't quite show up.
So now we know. Rory presumably gave birth to a baby with blond hair and a side smirk who already belonged to two or three secret societies. Just like their dad Logan.