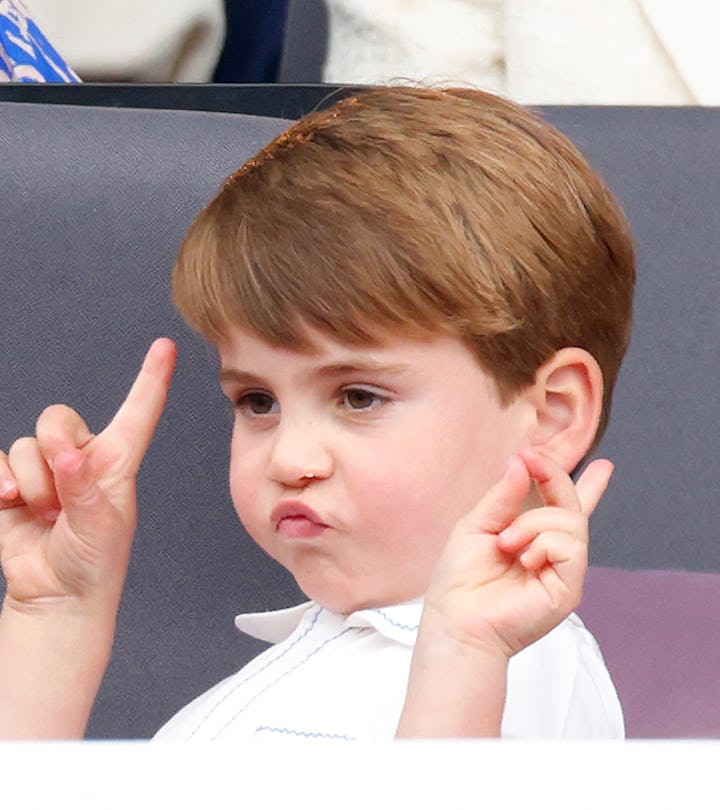 Max Mumby/Indigo/Getty Images Entertainment/Getty Images
15 Photos Of Prince Louis That Literally Capture Every Mood
Joy, exhaustion, excitement! And perhaps best of all, sass.
Yes, the Platinum Jubilee was a massive event in the United Kingdom held to celebrate Queen Elizabeth's 70 years on the throne. And yes, Her Majesty was certainly feted by her loyal subjects, both at home and around the globe. But let's be honest, the weekend belonged to Kate Middleton and Prince William's youngest son, 4-year-old Prince Louis.
The first weekend in June marked the first time that the Duke and Duchess of Cambridge brought all three of their children along to several royal events. While 8-year-old Prince George and 7-year-old Princess Charlotte are fairly well versed in attending royal events, little Prince Louis is fairly new to the whole thing. And being a boisterous 4-year-old meant that every single emotion he felt the entire weekend was written all over his face. He could barely contain himself, much to older sister Princess Charlotte's irritation. And to the rest of our delight.
In fact, a deep dive into photos of Prince Louis at the Platinum Jubilee offers a significant representation of the breadth of human emotion. The love, the joy, the exhaustion, the excitement. And perhaps best of all, the sass. Let Prince Louis be your mood guide.