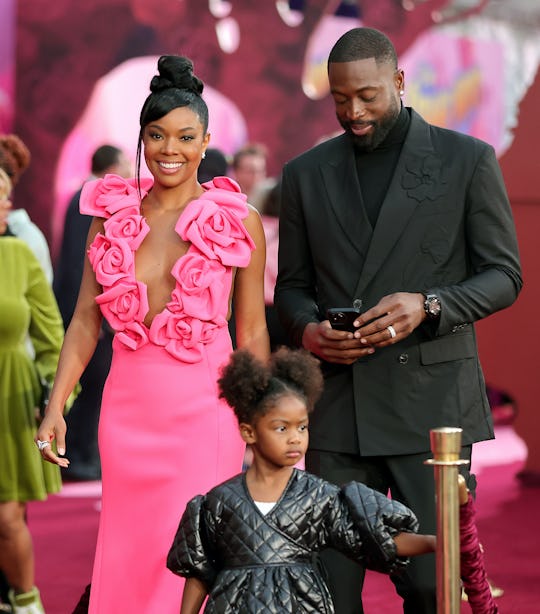 Matt Winkelmeyer/WireImage/Getty Images
Gabrielle Union Shared The Simple Beauty Tips She's Teaching Her Daughter Kaavia
And the 4-year-old responded in typical "Shady Baby" fashion.
Gabrielle Union-Wade is sharing all of the beauty knowledge and wisdom she's acquired over her more than 20 years of working in Hollywood. All of those years sitting in makeup chairs having professionals offer their own insider tips, just imagine how much wisdom she might have to impart. Wisdom she generously shared with her 4-year-old daughter Kaavia James, who responded in typical "Shady Baby" fashion.
Union, who shares Kaavia with husband Dwyane Wade along with Wade's three other children, took to Instagram recently to answer a question from Harper's Bazaar. "What is the top beauty tip that you're passing down to Kaav?" Without hesitation the Bring It On star replied, "Water. My beauty tip is water. And boundaries."
How did Kaavia respond? Well we don't have to worry about her setting boundaries for herself as she's been doing that since she was a baby. This is a child who told her mother that her breath was stinky in a video, after all. So she focused on drinking water first. "So you have to drink water," Kaavia says looking a touch despondent. "Don't drink good juices every time."
From there, Kaavia voices her own concerns, cautioning her mother to drink water in an apparent effort to avoid becoming an Avatar. "Maybe I can be a pretty Avatar," Union asks, but Kaavia is not having it. "When uncle Thomas comes and he sees you are an Avatar, he is not going to dress you up," Kaavia darkly warns. Union frequently collaborates with stylist Thomas Christos, who commented on the video "@kaaviajames knows!" So bad news for Union, if she does happen to turn into an Avatar she will not be receiving any help from Kaavia or Christos.
Finally Kaavia shuts down the entire conversation by playing one note on the piano, signaling, presumably, the end of her patience with this topic.
Kaavia might not be taking her mother's beauty advice seriously, but older sister Zaya certainly has been. When asked in an interview about Union's guidance on style and beauty, the 15-year-old model explained, "She tries to teach me that beauty standards are arbitrary and that they don't mean anything. They don't matter any more; what people thought was the standard is not. And just that being myself is the best technique out there."
Considering Zaya just walked the runway at Paris Fashion Week, maybe we should all be listening to Gabrielle Union. Drink water, set boundaries. Don't become an Avatar. That one's from Kaavia.