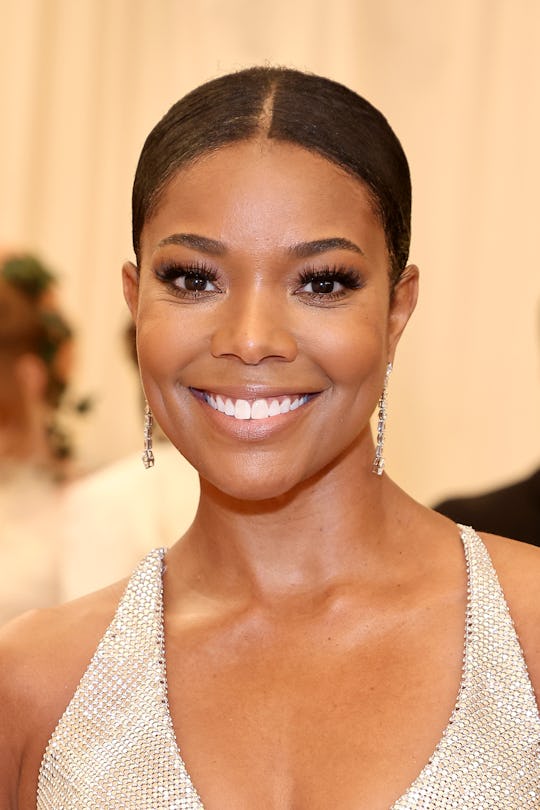 Arturo Holmes/MG22/Getty Images Entertainment/Getty Images
Gabrielle Union Shared A Hilarious Video Of Kaavia Trying Her Absolute Best To Relax
Gabrielle Union's daughter Kaavia James is back at it again, stealing the spotlight from her famous mama and being all kinds of sweet and sassy on Instagram. In a super cute and funny video posted over the Memorial Day weekend, Union shared a very relatable moment showcasing a toddler's talent to be calm and collected one moment, and then exploding with excited energy the next.
In a recent video posted on Instagram, the mother and daughter duo were twinning in yellow dresses and stretched out on matching red rocking chairs in what seemed like a picturesque scene of peace and relaxation. "Mommy watch this," the feisty 3-year-old said before releasing an exaggerated exhale. Union also let out of deep breath and closed her eyes to enjoy a rare moment of down time, when Kaavia suddenly shouted and wiggled her body in a display of inexplicable exuberance, the way toddlers tend to do.
"When you wanna relax and turn up at the same dang time. Do you boo boo. Be safe out there good people. #SundaySweetness," Union captioned the adorable-but-interrupted moment of mother-daughter bonding. "Relax for what?" she also wrote over the video.
Union is married to basketball legend Dwyane Wade. Together, they are raising five children together. Union recently shared a video on Instagram of the family celebrating daughter Zaya's 15th birthday with a pretty awesome camp theme. Even famous pal, Drew Barrymore was impressed and dropped some party praise in the comments. "I love a kids party that includes fun for adults. I never understood kids parties that didn't realize adults might be there too?! This looks epic," wrote the daytime talk show host.
The Cheaper by the Dozen star balances motherhood and Hollywood with ease and realness, sharing scenes of her family life that always bring the smiles. Whether she's guest-starring on Sesame Street, swerving from mom guilt, or sharing videos of uplifting affirmations, Union's just the kind of mom you admire and imagine you could be friends with.
When it comes to the special relationship with her little mini-me, Union and Kaavia James are goals for mommy-daughter bonding at its best. And we are grateful to Gabrielle Union for posting this parenting PSA: never believe a toddler when she tricks you into thinking you are allowed to relax. Ever.