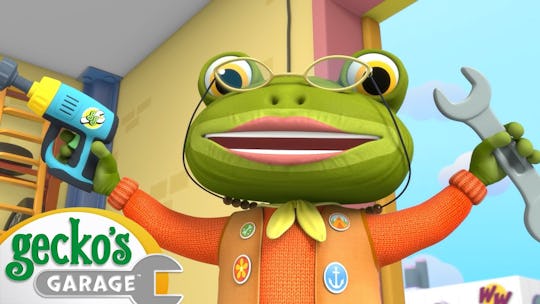 Gecko's Gay Garage
Love it or hate it, this is the queerest cartoon on TV.
At our house, the TV is, mostly, always on. Neither my wife nor I care about limited screen time. We both grew up watching gobs of television and still do. The TV in our home is on so often, I hardly pay attention to the rotation of horrible YouTube videos: Blippi, Vlad and Nikki, Peppa, a man washing mud off of various vehicles, and, of course, Gecko's Garage.
And while part of me was horrified when my son could spell B-L-I-P-P-I but not his own name,, the television remained on. Aside from the few laughs Peppa brought me, I thought the shows were all junk.
Then on a typical school morning, as I begged my kid to put on his pants, I heard the familiar drone of Gecko, whose voice sounds eerily like Salad Fingers from 00's YouTube. Usually Gecko talks shop, seeing as he's a mechanic, but this morning I heard him say, "We are helping baby truck make dinner for her mommies."
"Mommies?" I screamed rewinding the episode. "Does baby truck have two mommies?" I yelled at my son. "Why didn't you tell me?"
"Yeah, she has two mommies," he said as if this was obvious, "mommy truck and momma recycle." My kid continued, "They're having Valentine's Day dinner."
"Valentine's Day dinner?" I screeched sitting down to watch the full episode. Since having my son, I've been perpetually searching for children's media depicting a two-mom family. The representation has been minimal. The most recent underwhelming example being Penny Polar Bear and her two moms on Peppa Pig. The episode revolves around the children at Peppa's playgroup drawing and sharing pictures of their families. When Penny shares, she states that her mommy is a doctor, and her other mommy makes spaghetti. This is the extent: a crappy kid's drawing, and the use of the word mommy twice.
At the end of dinner, the two mommy trucks nuzzle each other and there is no way to pretend that they aren't in love.
Back at the garage, Gecko and his mechanical friends are putting together a literal candle lit dinner for the moms, complete with a white tablecloth covered in heart and string of cafe lights. It was stereotypically romantic, which was something I'd never seen depicted for a queer couple in children's entertainment. At the end of dinner, the two mommy trucks nuzzle each other and there is no way to pretend that they aren't in love.
At thats point I was so impressed that I kept watching. In other episodes Mommy truck and Momma Recycle are supporting characters who are given a multitude of story lines while clearly being a gay couple with a child. This inclusion of a queer family alone would have been enough for me. I could have never guessed that Gecko's garage would get gayer, but then came an entire pride episode.
The episodes open with the Blue Mechanical, one of Gecko's robot helpers, sewing a rainbow heart patch on their vest. At this moment it dawned on me that the Mechanicals are clearly a group of non-binary robots as Gecko never once uses a pronoun to refer to them and only calls them by their preferred color.
Grandma Gecko hops off the motorcycle wearing Birkenstocks and a jean jacket covered in rainbow heart patches.
Gecko hammers a rainbow streamer onto his truck, which is carrying an inflatable rainbow, just as Grandma Gecko rolls into the shop on her a motorcycle. As a lesbian who attended Girl Scout camp for a decade, trust me when I tell you that Grandma Gecko is a bonafide old dyke. She hops off the motorcycle wearing Birkenstocks and a jean jacket covered in rainbow heart patches. It turns out she always wears Birkenstocks, but usually dons a khaki vest with patch that are the same colors as the lesbian pride flag. In later episodes she builds campfires and shows Gecko the trickier aspects of car fixing as she is a master mechanic, obviously. This woman is clearly a pillar of the community, and she is exactly who I want to be at the age of seventy.
During the pride episode, Grandma Gecko leads the carnival parade on her motorcycle, a clear nod to the historically protective role of dykes on bikes. Before the parade begins, Red Mechanical is nervous to wear his new outfit. Gecko encourages him by reminding him, "Carnival is all about expressing yourself and being proud of who you are." The carnival parade starts, and everything is doused in rainbows. At the end of the episode, with the encouragement from his friends, the red mechanical pops out the top of the rainbow float wearing an Elton John type jacket and gold crown. As I watch, I'm almost in tears. It's a master class in age-appropriate language surrounding queerness and momentarily, I feel justified for always having the TV on.