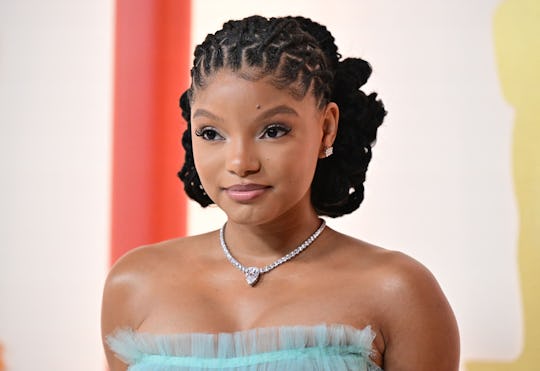 FREDERIC J. BROWN/AFP/Getty Images
This Video Of Halle Bailey Hugging A Young Little Mermaid Fan Will Make You Weep
Little Mila simply refused to let go of her favorite Disney princess.
The live-action version of The Little Mermaid doesn't come out until May, but Halle Bailey already has some little fans who can't get enough of her as Ariel. Even when she's not in her mermaid tail. Bailey was recently at Disney World and was approached by a young fan who gave her a hug and absolutely refused to let go. That's how ready she is to see Bailey as Ariel.
Bailey was at Disney World in Orlando as part of the Disney Dreamers four-day event, where high school students are able to join workshops and meet with mentors to help them work towards a better future. While walking around the park, Bailey was approached by a little girl named Mila Rose who came in for a big hug. Bailey obliged and lifted her up into her arms, at which point the little girl wrapped her arms around her neck and hung on for dear life.
"Ariel's her favorite," an adult said in the background of a video that was first shared on Bailey's Instagram Story. Bailey rocked Mila in her arms and told her, "You're so pretty." Mila kept her head down and would not let go, even when Bailey asked her if she wanted a picture. She lifted her head but stayed right where she was — in the arms of Ariel herself.
Bailey did not mind in the least bit. In fact, she posted the viral video on Twitter with the message, "she made my day."
The 23-year-old singer is excited to become a role model for young fans, especially since she recently opened up about some of the updates to the story for this new live-action version. "I'm really excited for my version of the film because we've definitely changed that perspective of just her wanting to leave the ocean for a boy," she told Edition. "It's way bigger than that. It's about herself, her purpose, her freedom, her life and what she wants."
Bailey is not the only one excited to see an updated version of Ariel. Videos of young Black girls watching the trailer for The Little Mermaid went viral last year, with some young fans watching in awe over seeing a princess who looked like them. It's clearly speaking to a deeply emotional part of young girls like Mila Rose, who was so overcome by seeing Halle Bailey in real life she didn't know what to do other than hold on to her and not let go.
The Little Mermaid will be released in theaters on May 26.