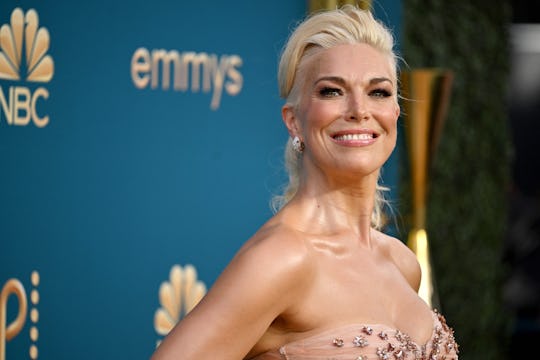 ROBYN BECK/AFP/Getty Images
Hannah Waddingham's 2022 Emmys Look Featured Sneakers & It Looks So Comfortable
Sensible and stylish at the same time.
Red carpet glamorous — but make it comfortable — seems to be Hannah Waddingham's motivation behind her style at the 2022 Emmy Awards tonight. The mom of one showed up to the red carpet in a gorgeous pink tulle Dolce & Gabbana ball gown, sporting high-top white Converse underneath instead of heels. Such a sensible mom choice for the Ted Lasso star that looks totally chic at the same time.
"Nobody knows that I don't have heels on underneath," she said during E!'s Live from the Red Carpet pre-show. "I feel like we've got the inside scoop and everyone else is doing the *click-click* thing."
Who needs heels when you can look just as stunning and have happy, non-hurting feet at the same time? Honestly, it's the mom hack that works equally for the red carpet or any nice event you have planned.
Waddingham, who welcomed daughter Kitty in 2016 with Gianluca Cugnetto, was nominated for Supporting Actress for a Comedy Series for her role as Rebecca in Ted Lasso. She won the Emmy for the same category last year, and this year, she is just excited to be nominated again.
"My category is on fire! I'm just happy to be here, really," Waddingham said on the red carpet.
"You are on fire!" a reporter said, to which Waddingham replied, "And it's comfy!" She did a little dance and lifted up her dress to show off her sneakers.
The camera pans to show off Waddingham's shoes, as the reporter comments, "Genius! I love how much fun you bring to the carpet."
"We got to, look how fortunate we are!" Waddingham says, adding, "If you take it too seriously, then there's something wrong with you. We are privileged out of our minds."
That's true for the Emmys and for parenthood as well. Let's follow Waddingham's example and embrace chaos, comfort, and fun when it comes to fashion and life!