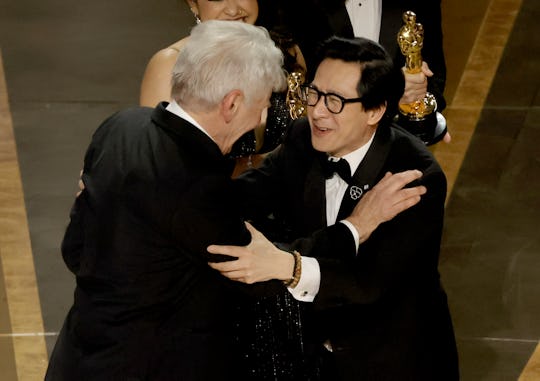 Kevin Winter/Getty Images Entertainment/Getty Images
Harrison Ford & Ke Huy Quan Hugged At The Oscars 40 Years After Indiana Jones
Indy and Short Round forever.
Ke Huy Quan was just a 12-year-old boy when he got his first big role in a huge movie, the 1984 hit Indiana Jones & The Temple of Doom. He showed up alongside his younger brother to support him as he auditioned for the part and ended up auditioning himself on the advice of the casting director. There he met superstar Harrison Ford, and the two hit it off immediately. So it was a pretty lovely moment when Ford was on stage to congratulate Quan nearly 40 years later when his big comeback movie Everything Everywhere All at Once won Best Picture. Four decades later and they're still making us emotional.
Ford was on stage on Sunday night to announce the winner of the Best Picture Oscar to one of nine nominees in his famously low-key manner. Ford is well known for his disdain for the trappings of celebrity, but it turns out there is a big softie in there somewhere. Because when he announced that Everything Everywhere All at Once had won and the cast came up on stage, he threw his arms around Quan with a huge smile on his face.
It has been a long road for Quan between The Temple of Doom and now, one he spoke about briefly when he won the Best Supporting Actor Oscar on Sunday night. Quan talked of his time living in a refugee camp as a young boy from Vietnam, and also his struggle to hold onto his dream of acting even as roles seemed to dry up for him. "I owe everything to the love of my life, my wife, Echo, who month after month, year after year, for 20 years, told me that one day, one day my time will come," he said. "Dreams are something you have to believe in. I almost gave up on mine."
How wonderful that Quan has been recognized for his talent with his old friend there. Although this is not the first time the two have gotten together, to be honest. In 2022, they reunited at the D23 Expo, and Quan shared a photo of them with their arms around each other. "I love you Indy!" he captioned the photo. And Harrison Ford? He was smiling.