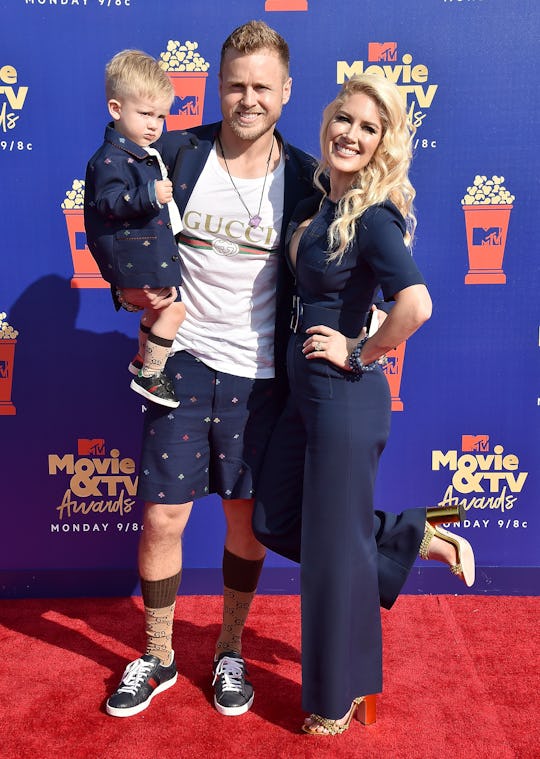 Gregg DeGuire/FilmMagic/Getty Images
Heidi Montag & Spencer Pratt Are Expecting Their Second Child Together
Their son Gunner, 4, is going to be a big brother!
Congratulations to Heidi Montag Pratt and Spencer Pratt on their exciting pregnancy announcement! The Hills: New Beginnings stars, who are already parents to son Gunner Stone, 4, revealed they are expecting their second baby.
"I couldn't be more excited. I don't know who I'm the most excited for — myself or Gunner or Spencer," Montag told Us Weekly on Wednesday. "I just felt like something was missing. I felt like a person was missing in our family that I had this intense love for. And I kept praying about it. I'm like, if I'm not meant to have another kid — because I had accepted that at this point — I just wanted to not have that desire so strongly and I just wasn't sure if it was going to happen or not. I just get so emotional about it." Montag also revealed to the magazine that she is due in December.
Montag and Pratt first met on The Hills in 2006, eloped in Mexico in 2008, and then had a wedding ceremony in California in 2009. Their son Gunner was born in 2017. Montag told Us Weekly she ate "bison hearts and raw meat and lots of liver" in order to get pregnant. She also "found a lubricant that's supposed to be great for fertility," which she credits for getting pregnant. "All that came together with God's timing, and I got pregnant," she said.
In March, Montag told People that she had "been trying to get pregnant for over a year and a half," adding that she is "willing to try different things." Secondary infertility can happen to anyone, and while Montag's methods for trying to get pregnant may be unusual, the desire for a baby is definitely understandable.
Because it took a while for Speidi Podcast host to get pregnant, she decided to stop taking pregnancy tests for a while. "I was so disappointed every month that I wasn't pregnant," she told Us Weekly. When her period was late, she decided to take one, and it was finally positive. "I couldn't even believe it," she said. "I was shocked! I was crying. I ran upstairs like 'Spencer, it says pregnant!' Gunner was like, 'Why are you crying? What's happening?'"
Even though this is her second time around, pregnancy has not been easy on Montag as she's had some bleeding. "For me, this has really been an eye-opening experience of what pregnancy can be for a lot of women," she told Us Weekly. "The first time everything was so great and so easy and I was like whatever, this pregnancy stuff is so easy. But it's not that way."
Despite the stress, Montag and Pratt are focusing on the positives. On May 7, the Pratt Daddy owner shared a sweet shot of Gunner sitting in his mom's lap outside, both wearing sunglasses, with the cheeky caption: "💓💓💓💓💓 sat goals." Now we know he was positioned perfectly to hide his mom's growing baby bump.
One thing's for sure: this new baby will be well-loved by Gunner and their entertaining parents!