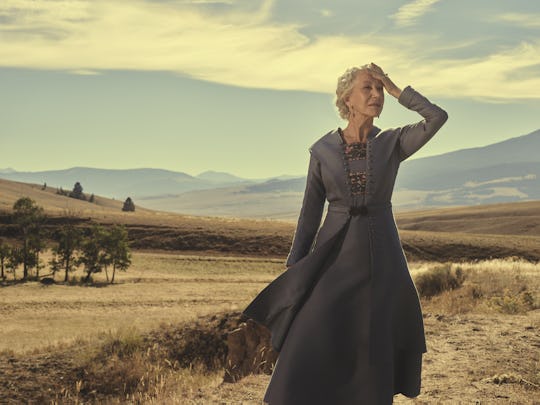 James Minchin III/Paramount+
Helen Mirren Says She's A Frequent Shopper At Walmart While Filming 1923 In Montana
"I know it like the back of my hand."
Dame Helen Mirren may have to rough it to find medical supplies and other basic necessities as Cara Dutton, the matriarch of Yellowstone's origin story series 1923, but the actress herself has no problem popping over to the local Walmart to grab what she needs. In fact, she shops at the Butte, Montana Walmart so often while filming 1923, she says she knows it like the back of her hand.
During a recent appearance to The Kelly Clarkson Show, Mirren talked with host Kelly Clarkson about Montana life. Clarkson owns Warren Peak Ranch, a massive $10.4 million ranch located in Granite County, Montana, a rural area roughly an hour west of Butte, which is where much of the filming for 1923 takes place.
"I literally live an hour from [Butte], I have a ranch in Montana," Clarkson told Mirren. The 40-year-old mom of two, who shares daughter River Rose and son Remington Alexander with ex-husband Brandon Blackstock, went on to discuss just how rural the area is.
"Look, I know there's like one store in Butte and it's like Walmart. So I just love that Dame Helen has been to Butte," Clarkson said. "That's where I go to get groceries because where I live is like super remote, so that's where I drive to get, like, milk."
"That's true," Mirren replied with a laugh. "I know that Walmart very well. I know it like the back of my hand."
"I just love that you've walked the aisles of that Walmart," Clarkson said excitedly.
Set during prohibition and the Great Depression in Montana, 1923 follows Mirren and Harrison Ford as Cara and Jacob Dutton as the family struggles to survive and keep hold of the Yellowstone ranch. "1923 focuses on the Dutton family's next two generations as they struggle to survive historic drought, lawlessness and prohibition, and an epidemic of cattle theft; all battled beneath the cloud of Montana's great depression, which preceded the nation by almost a decade," the series' synopsis reads, according to to Deadline.
In 1923, Mirren's character is an Irish immigrant, and making sure Cara had an Irish accent was very important to the actress. "One of the things I very strongly wanted was that she would speak with an Irish accent, not with an American accent," Mirren told Vanity Fair in November. "It's always slightly annoyed me with Westerns that you have all these people speaking with modern American accents when in fact, so many of them were fairly recent immigrants."
Mirren also touched on Montana's immigrant history during her appearance on The Kelly Clarkson Show. "It's so beautiful, Montana. Butte, you know, has this amazing history — old mining town, as you know," Mirren said on the talk show. "When you look at the history of Butte, there were people from Moldavia there, there were Welsh guys, there were Scottish people, there were Irish people, you know, people from the Basque region. So, that's what the West was like — all these different accents and cultures and foods."
As 1923 has been renewed for Season 2, Mirren will continue to play Cara, film in Montana, will surely have plenty more shopping to do at the local Walmart. Who knows, maybe she and Clarkson will bump into each other while grabbing a gallon of milk?