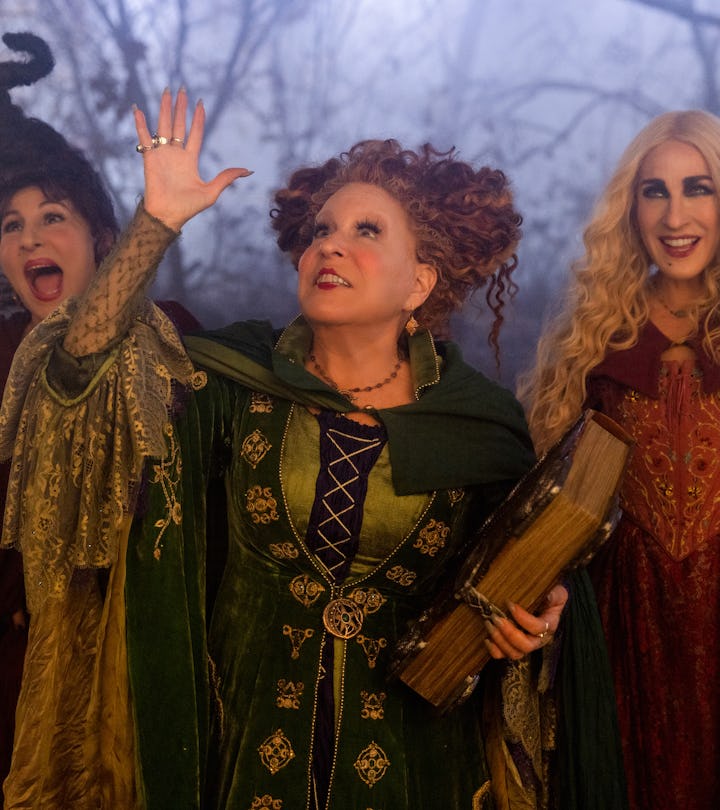 © 2022 Disney Enterprises, Inc.
Witchy Vibes, Salty Language, & More: What Parents Need To Know About Hocus Pocus 2
The Sanderson Sisters are back!
We've waited for this moment to come since we were little children (🎶... I'll take thee away...🎶): the sequel to the beloved Halloween classic Hocus Pocus! But what age is Hocus Pocus 2 appropriate for and what can we, as parents today, expect? Here's what you should know before tuning in with your little ones this spooky season.
Hocus Pocus 2 is rated PG.
The sequel has the same PG rating as the original. Common Sense Media suggests it is appropriate for children 10 and older (which, incidentally, is the same thing they suggest in regard to the original.) As you can imagine, you can expect a lot of the same general vibe as the original film, which had some light spooky (but not terrifying) visuals and references, sexual innuendo, salty language (mostly period accurate words like "trollimog" — Bette Midler had a reference book on set to make sure her curses were period accurate).
Hocus Pocus 2 includes references to eating children (how else does a witch stay young and beautiful forever?), using blood and bones for spells (obviously!), and, of course, the discombobulated antics of Billy "Good Zombie" Butcherson. A little gruesome, yes, but playfully so and overall pretty family friendly.
Of course every family is different and every parent knows what their child can handle/what discussions they're willing to have ("Mommy, what's a virgin?"... yes, expect that in the sequel as well) but, full disclosure: my daughter has been watching the original since she was a toddler... then again she also ran around hugging gruesome creatures in Halloween displays on our neighbor's lawns so this was definitely in her wheelhouse. Still, even if you don't have ghoulishly inclined children, late grade-school is probably a safe bet for the sequel as it was for the original.
There may be a lot about the original Hocus Pocus you'd forgotten...
The original film, while still generally family friendly was, at times inexplicably sexual. Like... for no really good reason except that it was the early-90s and Hollywood DGAF. Like, why did the writers decide a virgin should bring the sisters back to life by lighting the Black Flame Candle. It adds absolutely nothing, which, incidentally, does not stop the script from referencing Max's virginity about a million times. Also, Sarah is relentlessly horny all the time ("Hang him on a hook and let me play with him!" Ma'am that is a young boy.), the bus driver is a sexual harasser as are Jay and Ice and, one word: "yabbos."
There are lots of ghoulish details that are pretty dark. Winifred's spellbook bound in human skin (to say nothing of its creepy functional eyeball); various body parts listed in the Sisters' spells or the general creepiness of Billy "Good Zombie" Butcherson.
I wouldn't be surprised if some of this were toned down a bit in 2022 (because, again, children's entertainment in the '90s was just generally more inappropriate than it is today), but just something to be aware of!
There is an even witchier vibe going on in the sequel.
This shouldn't have too much of a bearing on the appropriateness of the movie unless your child has a deep fear of witches (in which case we doubt this one is topping their list anyway), but we can't help but be reminded of another '90s cult classic about a small coven of witches when we watch Hocus Pocus 2. Yes, this is giving The Craft, which came out two years after Hocus Pocus. I mean, a group of teenage girls — in this case local Salem teens named Becca and Izzy — who gather in the woods casting spells in the name of the Maiden, the Mother and the Crone?
There's also yet another witch in the movie, who is played by Ted Lasso actress Hannah Waddingham, with the power to transform into a red-winged blackbird. She's the one who gave Winifred her beloved book. (We'll stop there so as to avoid spoilers.)
Point is: We. Are. Here. For. This. Quality. Witchy. Content.
Check out the official trailer here.
The official trailer for Hocus Pocus 2 gives us a hint about what we can expect.
Hocus Pocus 2 premieres Sept. 30 on Disney+.
This article was originally published on