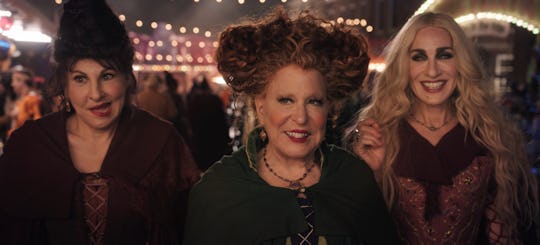 Disney
Hocus Pocus 3 Is Officially Happening & Here's What We Know
No one is dousing the Black Flame Candle ever.
It took three decades for Hocus Pocus fans to get their greatest wish of seeing the Sanderson sisters return in a sequel. Since 1993, everyone was doing their best to light the proverbial black flame candle (virgins and non-virgins alike) to bring them back, and finally it happened. A sequel. And not just one either. Less than a year after Hocus Pocus 2 arrived on Disney+, a third installment is in development. I guess no one wants to blow out that candle any time soon.
Hocus Pocus 2 gave us the Sanderson sisters' origin story.
When Hocus Pocus 2 came to Disney+ last September, fans were delighted to get a little background on how Winnifred (Bette Midler), Sarah (Sarah Jessica Parker), and Mary (Kathy Najimy) Sanderson became the soul-sucking, youth-obsessed witches we've come to adore. We saw them as young witches fleeing their village and running into Mother Witch (Hannah Waddingham), who gave them some less-than-ideal instruction on sucking the souls of children to stay young. The witches get brought back to life yet again by three young women who don't realize what they're doing to wreak hilarious havoc on Salem this time around. Only now they realize the only thing they really want is to be with each other.
The witches are coming back, again.
Walt Disney Pictures President Sean Bailey confirmed in a profile by The New York Times that we have not seen the last of the Sanderson Sisters. According to Bailey, Hocus Pocus 3 is happening, but he did not elaborate further on how far the third installment is in its development. Considering the sequel broke streaming records and became the most streamed original movie ever to premiere on Disney+, it's perhaps not terribly surprising that a third film is in the works.
Who will star in Hocus Pocus 3?
While Bailey did not elaborate on details of the third installment, it seems impossible that a Hocus Pocus movie would go forward without the Sanderson Sisters and the original actresses who made them so iconic. That being said, the final scene of Hocus Pocus 2 did not exactly lend itself to a continuation of their story... could this mean a new generation of witches coming to Salem?
How can you watch Hocus Pocus 3?
After the success of Hocus Pocus 2 on Disney+, Hocus Pocus 3 could well go directly to streaming on the platform when it is eventually released. It does not appear to have begun filming so it will likely not be available to watch for some time. So you'll just have to rewatch the first two movies while you wait to see what happens.