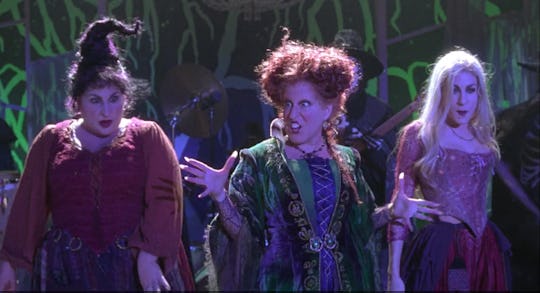 Disney+
10 Hocus Pocus Facts To Make You Love Halloween Classic Even More
So much came together to make our favorite Halloween movie.
You've watched the movie every single year since you were little. You know the songs, and have dressed up as the characters for Halloween. You've planned the perfect time to introduce the classic to your kids. We're speaking, of course, of Hocus Pocus. But while there is a lot you certainly know about the movie (aka every line by heart), there's a lot you probably don't know about Hocus Pocus as well. We've rounded up some of our favorite Sanderson Sisters fun facts about the movie production, the actors featured (and some of those who weren't), and the history that inspired the film.
While the movie took a while to find its audience (more on that in a little bit), we're very proud to say that we Millennial women have known about the glorious good fun of this campy holiday romp from Day 1, and have helped drive its ascent from "cult classic" to bona fide "classic" with a sequel almost 30 years after its initial release. But almost as interesting as the story of the Sanderson Sisters (and the Dennison siblings who defeat them) are the various behind-the-scenes dramas and happy accidents that led to the Hocus Pocus we all know and love.
We hope these new tidbits of Hocus Pocus trivia enhance your holiday viewing experiences!