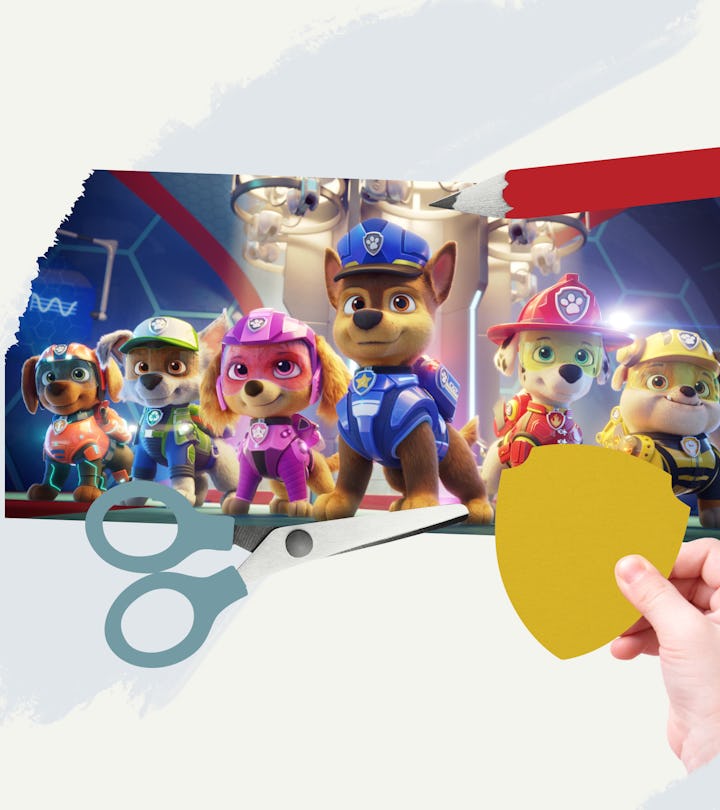 How to Create Your Very Own PAW Patrol: The Movie Badge of Honor
In a few easy steps, your little one can match their favorite puppy!
If your little one is absolutely obsessed with PAW Patrol, we've got the perfect activity to get them excited before they enjoy PAW Patrol: The Movie, in theatres now and streaming on Paramount+. The preschool action-adventure will follow six heroic puppies led by a tech-savvy 10-year-old boy named Ryder as they solve problems and take on super cool missions to protect the Adventure Bay community. Here's how you can guide the PAW Patrol fan in your life through this awesome Badge of Honor craft. Paws away!
First, choose which puppy the Badge of Honor will represent: Chase the German Shepherd Police pup and natural leader, Skye the fearless and graceful Cockapoo, Ricky the creative and resourceful Mixed Breed Recycling pup, Marshall the brave and adventurous Dalmatian, Rubble the tough Bulldog with a golden heart, or Zuma the Labrador Water Rescue Dog.
Next, you'll need to draw a badge design onto card-stock with pencil and cut it out.
Place the badge design on card-stock and trace the outline once again, this time, leaving about 1/4" border around the outline. Cut this one out, too.
Now it's time to draw a paw print onto card-stock. Once you have a perfect paw, cut it out.
Use the bigger card-stock badge and card-stock paw print to trace onto white foam. Cut it out.
Use the small badge card-stock cut out to trace onto an adhesive foam of the color that coordinates with your favorite PAW Patrol character. Cut it out.
Peel the backing from the colored badge piece, and center and attach it onto the white badge. Next, peel the backing from the pieces of the paw print, and attach those to the colored badge piece, too.
Your Badge of Honor is complete! Stick it on a surface where you can proudly show it off, like on your favorite shirt, a backpack, a notebook, or your lunchbox! Be aware, your kids may turn into puppies! And make sure to check out PAW Patrol: The Movie in theatres and streaming now on Paramount+.
This article is sponsored by Paramount+.