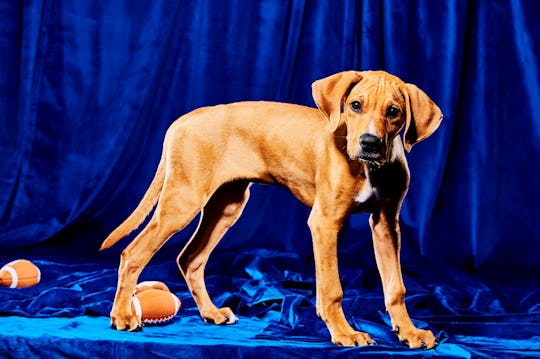 Warner Bros. Discovery
Here's Everything You Need To Know To Watch The 2023 Puppy Bowl
Lombarky trophy here we come!
Pre-game for Super Bowl LVII with some championship pups! On Super Bowl Sunday, the 2023 Puppy Bowl is also airing on TV and will showcase puppies from rescues and shelters across the country. Team Ruff and Team Fluff will compete against one another to lay their paws on the — wait for it... — Lombarky trophy. This year's Puppy Bowl, aka Puppy Bowl XIX, is projected to be the largest one yet with 122 puppies from 67 different shelters and rescues across 34 states. So here's everything you need to know to watch the 2023 Puppy Bowl.
When is the Puppy Bowl in 2023?
Puppy Bowl XIX premieres on Sunday, Feb. 12, 2023, at 2 p.m. EST/11 a.m. PST.
How can I watch the Puppy Bowl in 2023?
In 2023, there are several ways to watch the Puppy Bowl. The annual event, which is marking its 19th year, will be simulcast across Animal Planet, Discovery Channel, TBS. It will also be available to stream on HBO Max and discovery+. Dan Schachner will return as the Puppy Bowl referee and sportscasters Steve Levy and Taylor Rooks will also return to provide play-by-play commentary.
Over 100 puppies will compete on Team Ruff and Team Fluff at Puppy Bowl XIX.
Over 100 puppies will be participating in the competition. The pups are from rescue shelters in 34 states, including Colorado, Seattle, Los Angeles, and upstate New York.
"Being there with so many other rescues from across the country and interacting with them and hearing what they do and what their stories are," Julie Starr, founder of Buddy's Second Chance Rescue in Amherst, New York told New York Upstate. It's heartwarming to see all of these rescues across the country come together and participate," she said. "It shines a huge spotlight on what shelters and rescues do as a whole, being the voice for these animals. Without these people dedicating their time and making sacrifices, these dogs wouldn't have a chance."
Eleven dogs with special needs will also be competing in the game. Special needs pups include Julius, a hearing-impaired Dalmatian; Marmalade, a sight and hearing-impaired Border Collie/ Australian Cattle Dog; and Mykonos an American Staffordshire Terrier/ Bulldog with a cleft palate.
Also for the first time, a Native American animal organization and a puppy player from Dominica, West Indies will be featured in the annual event.