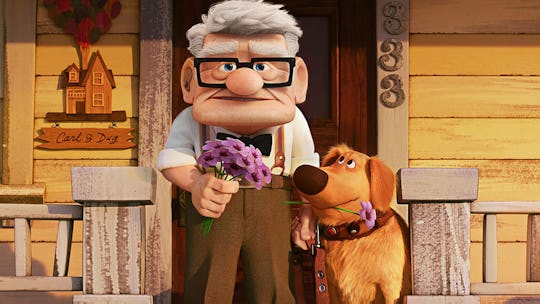 Pixar
Carl From Up Gets Ready For His First Date Since Ellie's Death In Pixar's New Short
Prepare to be emotionally wrecked...
He's a beloved curmudgeon, an innovator, a style icon. And now he's ready to get back out there for a date. Pixar's new animated short Carl's Date sees everyone's favorite cranky old man suit up for his first date since the death of his beloved Ellie, and no one is ready to go through this level of emotional upheaval. Not again. Not after we're still trying to process Up. Still, here's everything you need to know to watch Pixar's new animated short Carl's Date, just be sure to stock up on tissues.
Two pals set out on a new adventure together in Carl's Date.
Carl Fredrickson and Dug, his dog best friend, are all set to head out on a new adventure together in Carl's Date after charming us all in the animated short series Dug Days on Disney+. In the new Pixar short, Carl is getting ready to go on his very first date with a new lady friend, which is a seriously big deal for the widower. We all remember what he went through in the 2009 movie Up after he lost the love of his life, Ellie. Carl fully attached a bunch of balloons to the home they made together to go live on a cliff she had always wanted to visit. But that's not what Ellie really wanted for him.
How can you watch Pixar's new short Carl's Date?
In theaters this June. Carl's Date will premiere as the preview for Pixar's new movie Elemental in theaters on June 16. After the short film's theatrical release, it will be available to stream again and again on Disney+.
Carl is following Ellie's wishes in the new Pixar short.
While it might be difficult to imagine Carl moving on from his wife Ellie's death after their lifetime together, this was exactly what she wanted for him. As we all remember, the last line of Ellie's scrapbook encouraged her husband to go have more adventures. And while it seems he's ready to go have a nice time with a lady friend, director Bob Peterson told Gizmodo that friendship will be the order of the day. "No one will ever replace Ellie for Carl. This is just friendship. This is just honoring her, Ellie saying 'go have a new adventure'. And this really puts it to the test. Should he do this or not?"
Carl's Date is also a tribute to Ed Asner.
The new animated short Carl's Date is something of a tribute to Ed Asner, the inimitable actor who voiced Carl. Asner recorded his dialogue for Carl's Date before his death in August 2021, so this new short is going to be even more emotional.
Twitter is already preparing be emotionally wrecked.
The response to the Pixar's upcoming animated short is basically just bulk buying tissues and ice cream because we all know we're going to be emotional messes over this one.
"I am both ready and not ready emotionally," wrote one Twitter user. "Fact: I will be crying from the minute I hear Ed Asner's voice," wrote another.
Carl's Date is going to be a tearjerker for the ages. And how great that Ed Asner's final role will be played on the big screen? June 16 can't come soon enough.