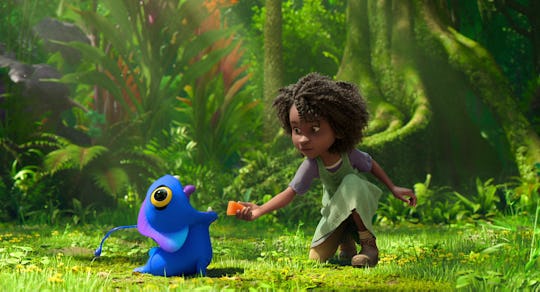 Netflix
How To Watch The Sea Beast Before The Oscars
The animated adventure film already has a sequel in the works!
The story of a legendary sea monster hunter whose daily routine is turned upside down when a young orphan stows herself away on his ship is up for an Oscar at the 95th Academy Awards on Sunday. Starring the voices of Karl Urban, Zaris-Angel Hator, Jared Harris, and Marianne Jean-Baptiste, The Sea Beast is full of action, adventure, aquatic landscapes, and beautiful representation. So how you can watch The Sea Beast? Here's everything you need to know so you can see what all of the hype is about.
How can you watch The Sea Beast?
The Oscar-nominated animated movie is available to stream on Netflix. The Sea Beast is a Netflix original movie, after all. Although new titles come and go each month, the 2022 animated adventure film isn't going anywhere since it was originally made to be a Netflix favorite.
The Sea Beast premiered in July 2022 and is rated PG. The movie takes place "in an era when terrifying beasts roamed the seas" and "monster hunters were celebrated heroes." Like Jacob Holland, who unexpectedly finds a young girl named Maisie Brumble stowed away on his ship after he's sailed off on his mission to hunt down a legendary monster. "Together they embark on an epic journey into uncharted waters and make history," the movie's synopsis reads. "The Sea Beast takes us to where the map ends, and the true adventure begins."
The Sea Beast has gotten fantastic reviews.
Rotten Tomatoes gave the movie a 94% approval rating, while The Hollywood Reporter described The Sea Beast as "a Moby Dick-meets-How to Train Your Dragon rollicking adventure tale." Common Sense Media gave the movie four stars and applauded its positive messaging and role models, recommending it for kids 8 years old and up. And of course, The Sea Beast is nominated for an Oscar alongside Turning Red, Puss in Boots: The Last Wish, Guillermo Del Toro's Pinnochio, and Marcel The Shell With Shoes On.
Speaking to Deadline about the movie's Oscar nomination, director Chris Williams gave credit to the whole team behind The Sea Beast.
"One director does not make a movie, I needed to work with an incredibly talented team to make a movie as ambitious as this, and I was so lucky that so many amazing artists were willing to join me on this journey," Williams, who also directed Big Hero 6, told Deadline. "I'm just really proud of the crew. They deserve the recognition ... I wanted to make a pure action-adventure story, like the ones that I loved the most growing up. We knew we were gonna have these full-throated action scenes, and we were really gonna go for it."
There's already a sequel to The Sea Beast in the works.
Brewing under the seas is part two of this monster-hunting adventure. In January, a sequel to The Sea Beast was officially announced. Director Chris Williams told Animation Magazine that he would direct both the sequel and an original animated fantasy feature for Netflix. Plot details have yet to be revealed, but according to The Hollywood Reporter, Harris will return as monster hunter Jacob Holland and Hator will come back as his adopted daughter, Maisie Brumble. The director also plans to explore the new family dynamic of the characters.
"Suddenly Jacob is a parent, a parent to an especially willful kid, right?," Williams told Animation Magazine. "And so when you see them on the dock [at the end of the movie], you know that's not what parenting looks like. It's far messier, far more complicated and more trying at times than that." Messy, complicated, and lots of adventures on the sea sounds like a winning combo.