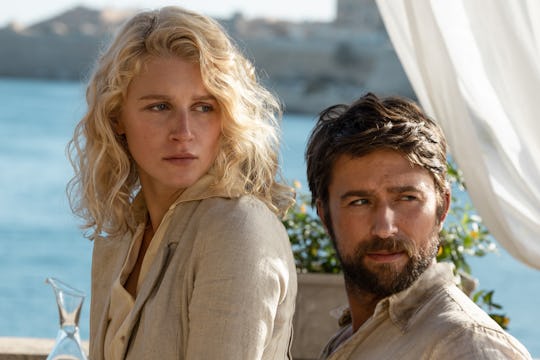 Emerson Miller/Paramount+
There's Only One Place To Stream The Yellowstone Prequel Series 1923
Taylor Sheridan's latest Western success dives deeper into the Dutton family's backstory and is exclusive to one streaming platform.
The Dutton family's dynamics have gotten even more complicated and dramatic in Yellowstone's origin story series 1923. Sure, we now have stronger theories about who could be John Dutton's grandfather and even learned a few parenting lessons from Cara and Jacob, but there are still so many unanswered questions. Like what exactly is Spencer's ETA for Montana? Is Teonna Rainwater going to be OK and is she maybe related to the Duttons? And where can we watch 1923? We can't answer most questions until new seasons premiere, but here's everything you need to know to stream Taylor Sheridan's latest Western success right now.
Is 1923 coming to Peacock?
No, 1923 is not available on Peacock and there are no plans to bring the Yellowstone prequel to NBCUniversal's streaming platform. Paramount+ confirmed to Romper that because 1923 is a Paramount+ original series, it is exclusive to the platform.
But why are the first four seasons of Yellowstone, the series that kicked off this entire franchise, available on Peacock? CNET reports that Paramount previously struck an exclusive deal with Peacock "to be the only subscription service streaming Yellowstone." Spin-offs including 1923 and 1883, which are both Paramount+ originals, were not included in that deal, therefore are not available on Peacock or any other streaming platform.
Where can you stream 1923?
You can stream all eight episodes of 1923 Season 1 on Paramount+, which carries content from CBS, BET, Comedy Central, Nickelodeon, MTV, and the Smithsonian Channel. If you're not already subscribed, you can try out Paramount+ free for seven days. Once the trial is over, you can choose between the ad-supported "essential" plan for $4.99 a month or the "premium" plan for $9.99 a month. Paramount+ also currently has a bundle that includes SHOWTIME for $11.99 a month, so you can watch 1923 and the new season of Yellowjackets with just one handy subscription.
Has 1923 been renewed for Season 2?
Yes! Weeks before Season 1 aired its finale chock-full of cliffhangers, Paramount+ announced that 1923 had already been renewed for a second season. "There are more stories to tell… #1923TV will return for a second season," the network shared on Instagram in February 2023.
So that means Harrison Ford (Jacob Dutton), Helen Mirren (Cara Dutton), Brandon Sklenar (Spencer Dutton), Julia Schlaepfer (Alexandra), Darren Mann (Jack Dutton), Michelle Randolph (Elizabeth), Aminah Nieves (Teonna), and more of the 1923 cast will all be back for more. But first, you'll need to lock down a Paramount+ subscription to watch the series in its entirety because 1923 is staying put.