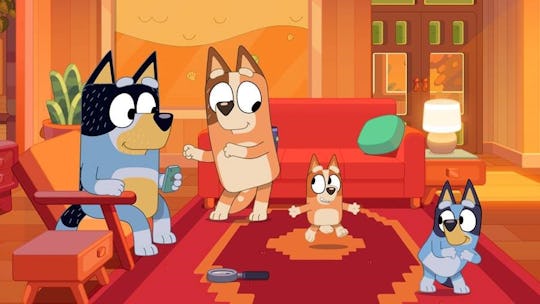 BBC Studios
Bluey Isn't Affected By The Hollywood Strikes, But Don't Expect A New Season Soon
Don't panic! More episodes from Season 3 still need air in the U.S.
Bluey Season 3 is officially available to stream on Disney+, but chances are you've already watched every episode several times. While we know that Bluey will return for more seasons eventually, are the Heelers taking a hiatus with the rest of the Hollywood right now? Or more specifically, is Bluey affected by the ongoing WGA and SAG-AFTRA strikes? Here's everything we know so far.
Is Bluey affected by the WGA and SAG-AFTRA strikes?
In short, no. Because Bluey is an Australian children's television show and written by Australian writers, it's not part of Hollywood's writer and actor strikes. Bluey is produced by Ludo Studio for the Australian Broadcasting Corporation (ABC) and gets funding from the Australian federal government's Screen Australia and Screen Queensland. "Bluey is proudly 100% created, written, animated, and post produced in Brisbane Queensland, Australia," a press release for the series reads.
The strikes include two American labor unions: the Writers Guild of America (WGA) and the Screen Actors Guild and American Federation of Television and Radio Artists (SAG-AFTRA). The WGA began striking on May 2, with SAG-AFTRA joining a couple months later on July 14. The WGA and SAG-AFTRA are asking for higher pay and stronger contracts regarding to the use of artificial intelligence (AI) for creative purposes.
Bluey's presence has been spotted on the picket lines.
In the U.S., Bluey streams on Disney+ and Walt Disney Studios is one of the Hollywood studios and production companies represented by the Alliance of Motion Picture and Television Producers (AMPTP). WGA and SAG-AFTRA have been in negotiations with AMPTP for months and production on any new TV or film content in Hollywood remains shut down.
Back in May, a sketch of Muffin from Bluey with her catchphrase "THIS IS UNACCEPTABLE!" was spotted during a WGA strike in front of the Walt Disney Studios, and then shared on Reddit.
When will new Bluey episodes start airing?
There are 37 episodes from Bluey Season 3 available to stream on Disney+ right now, and there's still another batch of episodes that have yet to air. Bluey Season 3 will have 50 episodes and we even have most of the titles of those that still need to land on Disney+:
Episode 38: "Cubby"
Episode 39: "Exercise"
Episode 40: "Relax"
Episode 41: "Stickbird"
Episode 42: "Show and Tell"
Episode 43: "Dragon"
Episode 44: "Wild Girls"
Episode 45: "TV Shop"
Episode 46: "Slider"
Episode 47: "Cricket"
There's some chatter that the remaining three episodes may be holiday specials, but nothing has been officially announced.
The latest installment of Bluey Season 3 dropped on Disney+ on July 12, and the final batch of episodes could possibly land on the streamer by the end of 2023.
When will Bluey return for Season 4?
We really don't know yet. In July, Bluey producer Daley Pearson spoke to Australia's Courier Mail and shared that the writers of the show will be taking a much-deserved break to recharge. "We are just going to get our heads on a bit, it's been four or five years and we've made 154 episodes, it is kind of unprecedented to do that back-to-back," he told the news outlet this summer. "It was very intense. We are just coming to the end of Season 3 and trying to think about what's the best way to make it better."
But don't panic, more episodes are indeed coming. After rumors and speculation swirled that Bluey might be coming to an end, a spokesperson for Ludo Studio told Daily Mail Australia, "We're very excited about the future of Bluey, which is now a huge global success, and there's certainly much more to come."
Currently, there is no official release date set for Bluey Season 4. Whenever it is, it'll be worth the wait.