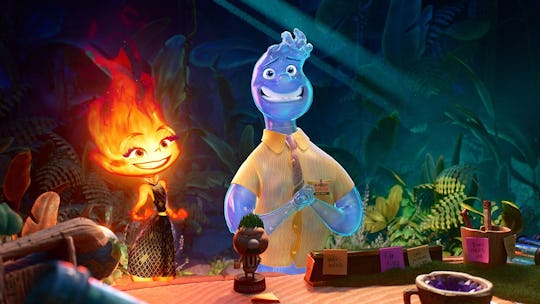 You'll Have To Wait A Bit To Stream Pixar's New Movie Elemental On Disney+
Catherine O'Hara's recommends seeing it on the big screen first!
Any time a new Pixar animated feature comes out, parents need to know how to get it in front of their kids. Between the incredible animation, the humor, the characters, the plot... you know you are going to get at least an hour and a half of easy entertainment out of a Pixar vehicle. As summer kicks into high gear, parents want to know if and when Pixar's Elemental will be available to stream on Disney+. Here's everything you need to know.
What is Elemental about?
Imagine if fire, water, wind, and air were all walking, talking creatures who had to live in a city much like New York City together. Now imagine these elements all lived sort of separately, only ever connecting when they have to take public transportation together. This is where we start in Elemental, a colorful tale centered on Ember (Leah Lewis), a young fire element who is wondering if she wants something different out of life other than working in her father's business. She meets water element Wade (Mamoudou Athie), who brings her to meet other water elements in an effort to get all of the elements to live together.
Is Elemental on Disney+?
Not yet. Elemental premieres in theaters on June 16, 2023, but won't be on Disney+ immediately. The movie is initially only going to be available in theaters, which the cast members think is the absolute best way to see it.
"The only way to get close to appreciate it is to see it on the big screen," Schitt's Creek's Catherine O'Hara, who voices Wade's mom Brook Ripple in the film, said in a behind-the-scenes look at the movie.
When will Elemental come to Disney+?
While Elemental won't be available to stream right away, fans can expect Disney to release the film for at-home entertainment within the usual threshold of 45 to 90 days after its release in theaters. And of course it will most likely only be available to stream on Disney+ much like other animated favorites like Encanto, Turning Red, Luca, and more. Everything depends on the length of time Disney keeps Elemental in theaters, which varies greatly with each film. Strange World and Encanto were only in theaters for 30 days before coming to Disney+, while Lightyear stayed in theaters for 45 days.
Perhaps your best bet is to take Catherine O'Hara's advice and see Elemental in the theater on June 16.