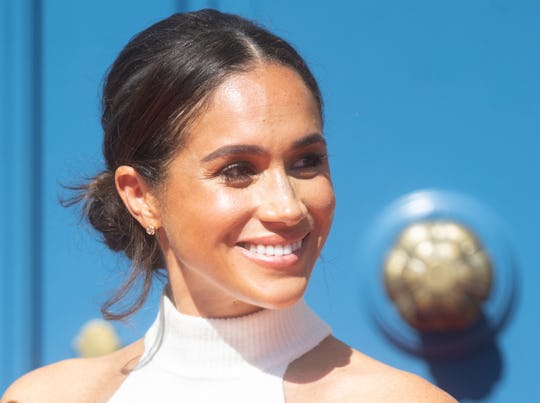 Samir Hussein/WireImage/Getty Images
Meghan Markle Might Be Relaunching Her Lifestyle Blog The Tig
The Duchess of Sussex shut it down in 2017 after meeting Prince Harry.
It's been several years since Meghan Markle said "Farewell, Darling" to her lifestyle blog The Tig. We all remember why she stopped giving tips on how to write the perfect thank you note or mix a lovely cocktail or celebrate Valentine's Day as a single woman. She stopped being a single woman via her royal marriage to Prince Harry in 2018. Five years later, the Duchess of Sussex is back in California and might be ready to bring us more lifestyle guidance by relaunching The Tig. (Who else is hoping she's going to become the next big mom blogger?)
Speculation that Meghan could bring back The Tig started after news broke that she has filed with the U.S. Trademark and Patent Office in an effort to launch a "revamped" version of The Tig, according to The Mirror, which reported that the relaunched website would be sort of like Meghan's version of Gwyneth Paltrow's massively influential blog, Goop.
The Mirror and The New York Post report that Duchess of Sussex is expected to offer up advice on food, travel, the arts, design, wellness and conscious living. Additionally, the papers Meghan filed, according to The Mirror, noted that she would be offering "commentary in the field of personal relationships." Meghan herself has not shared any updates about the possibility, so at this point it's pure conjecture.
But we have to wonder, could this commentary on "personal relationships perhaps" include her relationship with her two children, 3-year-old son Archie and 1-year-old daughter Lilibet? Honestly it seems quite likely when looking at some of her recent work.
A baby photo of Meghan Markle's daughter Lilibet featured in her and Prince Harry's Netflix docuseries.Netflix
A snapshot of Prince Harry feeding his son Archie. Netflix
The Duchess of Sussex recently hosted the podcast Archetypes, where she was known to discuss her new role as mom of two with influential guests like Mindy Kaling and close friend Serena Williams. While the first season of Archetypes ended in November 2022, it remains unclear whether or not the former Suits star will return for a second season. If she does, that will give her two arms of a potential media brand between the podcast and lifestyle blog. And let's never forget the Netflix documentary Harry & Meghan that took the world by storm. If all of these come together, Meghan seems to be building an impressive post-royal career for herself.
As for The Tig, which she referred to as her "baby" in 2016, it certainly would make sense for Meghan to dip into her experience as a mom to offer tips on relationships and travel and food. But even if she doesn't, let's be honest. We'll be lapping up all of those archived good tips that some of us might have missed the first time around with The Tig.