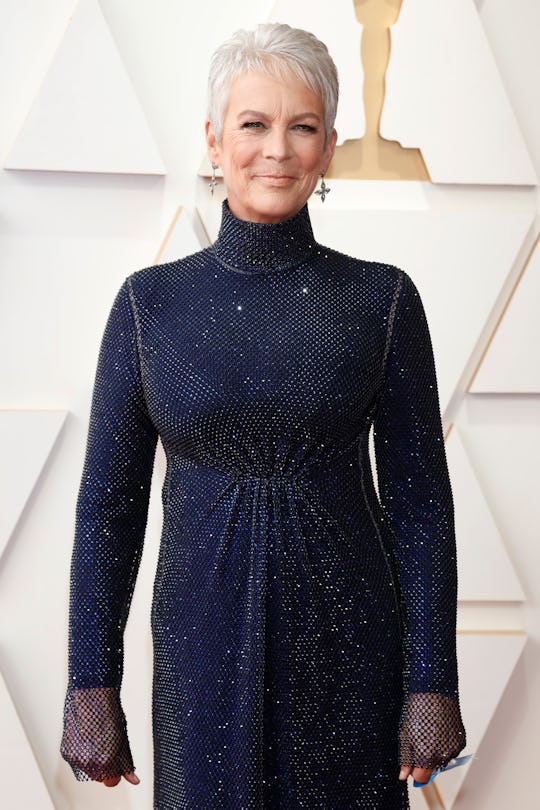 Future Publishing/Future Publishing/Getty Images
Jamie Lee Curtis Officiated Her Daughter's Cosplay Wedding & It Looked So Fun
In full World of Warcraft costume no less.
The holiday weekend was especially wonderful for Jamie Lee Curtis and her family. The Halloween star celebrated her daughter Ruby's amazingly cool looking World of Warcraft-themed wedding, and what's more she got to pull a Moira Rose and actually officiate the event.
Curtis and her husband Christopher Guest hosted their daughter Ruby's colorful cosplay wedding on Sunday to new wife Kynthia, and the mom of two couldn't have looked prouder if she tried in the glimpses she shared on Instagram. Curtis did double duty at the wedding by officiating the event in full World of Warcraft costume herself, dressing as Jaina Proudmoore. This is the second time Curtis and Guest have hosted a wedding in their backyard, as their older daughter Annie was married on their property three years ago.
"We're gonna have a beautiful picnic in the backyard. I'm really excited," Curtis told Jimmy Kimmel in March. "Both my children will have been married in my backyard, which brings me to tears."
While Curtis told Kimmel that a backyard wedding was about, "Just forgetting all of show-off business — being a parent, having both of your children married in your backyard," this cosplay wedding was a glorious, colorful event where guests were encouraged to dress in costume. So basically the most fabulously show business-type backyard wedding you could possibly want. And why not?
Curtis first announced that her daughter Ruby was getting married last year in an interview with AARP, where she said she was bursting with "pride and wonder at watching our son become our daughter Ruby," adding that Ruby "and her fiancé will get married next year at a wedding that I will officiate."
She didn't just officiate, of course. She did it in full costume.
The Freaky Friday actress shared several shots of the wedding weekend, including one she wore a "Wife is sweet" t-shirt with Ruby and Kynthia's faces on it while she held a big knife alongside the caption, "YOU CAN'T MAKE THIS UP! The ONLY thing left over at the end of this entire BEAUTIFUL wedding, after everything was taken away was this f-ing BUTCHER KNIFE they cut the tiramisu wedding cake with! WIFE IS SWEET!" She then promoted her new movie Halloween Ends.
Because it's okay to have a show business wedding in your backyard. Especially if it's a cosplay dream and officiated by Jamie Lee Curtis.