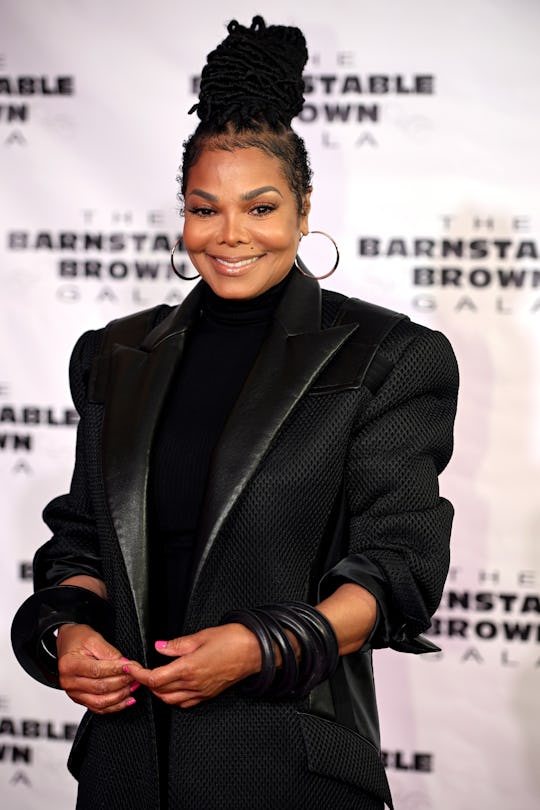 Stephen J. Cohen/Getty Images Entertainment/Getty Images
Janet Jackson's Son Eissa Is A Little Musical Prodigy In The Making
Janet Jackson is a living legend, a global and generational icon, and a hardworking mom to a sweet little boy, 5-year-old Eissa. The 56-year-old singer is the mother of Eissa Al Mana, whom she shares with her ex-husband, Wissam Al Mana. The couple married in 2012 and divorced shortly after Eissa's birth in 2017. Over the years, Jackson has been vocal about her love for Eissa and being a mom.
"You are my love, my life, my soul, you are my everything," she wrote on her Instagram for his fourth birthday. And this past January, for his 5th birthday, she dotted on his growth, writing, "You're growing up so fast. Such an intelligent beautiful boy. Wishing you a life full of magical moments."
Jackson is private about Eissa's image but has shared a lot about her son over social media, from his love of PAW Patrol to dancing like his Uncle Michael Jackson. Here are a few more fun facts about Jackson's Eissa!
Eissa plays the cello and violin.
Eissa is a little musical prodigy in the making. During a 2020 appearance on the Tonight Show with Jimmy Fallon, Jackson spoke about her toddler's love for classical music. "First he chose the violin and he loves classical music," she said about the toddler who was two at the time. "First day of school, he took the violin to school. Third day of school, he says, 'Mama I want to take a cello to school.' I said, 'Baby, you don't have a cello.' He said, 'Turn my violin into a cello. Please, mama.'"
Jackson added that he takes cello lessons and "loves them," and those are not the only instruments he plays. "[Questlove] gave Eissa a beautiful set, drum set- he loves it," she shared with Fallon. Pretty cool!
He love his Uncle Michael's music.
Remember Eissa is a Jackson at heart, so rhythm and dance run naturally in his veins. Jackson spoke about how Eissa has been tuning into his family's lineage, specifically his late iconic uncle and how he is mastering his moves.
"He says, 'See mama dance. Watch Uncle Michael and mama,' and he wants to see 'Scream' at that point," Jackson shared on the Australian radio show, Carrie & Tommy. "He does this thing that my brother did from 'Doesn't Really Care About Us,' the march and the hand. He does a few things. He does the head. He loves 'Smooth Criminal.'"
No doubt, the late King of Pop would be proud to know his nephew is such a huge admirer of him.
Motherhood is her #1 job right now.
Although we haven't had any new music from the icon in recent years, Jackson has an even more pressing job that keeps her working — and that's keeping up with Eissa. Jackson recently told ESSENCE that she loves her career, but is taking a step back these days to focus on her son.
"Even though it's something that I absolutely love, it still is my work, my job," she told the magazine for its June/July issue. "There will be music at some point. Exactly when? I can't say just yet, but there will be. I love it too much not to do it. This is all I know. There's so much that I want to do — but my number one job is being a mama."
After such a monumental career, she deserves it!