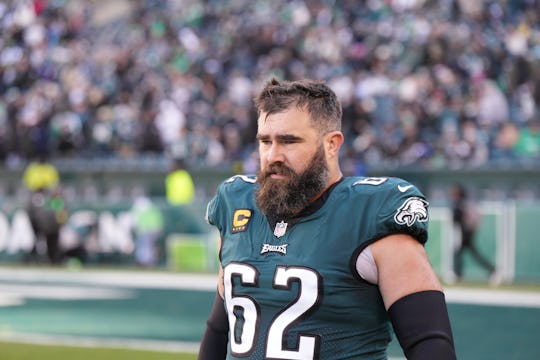 Icon Sportswire/Icon Sportswire/Getty Images
Jason Kelce's Pregnant Wife Is Bringing Her OB-GYN To The Super Bowl To Play It Safe
And that's how you score Super Bowl tickets, my friends.
Philadelphia Eagles center Jason Kelce is gearing up for a big weekend. He's playing in the Super Bowl on Feb. 12 in Arizona, and of course he wants his family by his side. Like, he really wants his family by his side. So much so that his pregnant wife is bringing her OB-GYN along, just in case something happens.
Kelce's family is making Super Bowl history.
When Jason Kelce hits the field to play against the Kansas City Chiefs on Super Bowl Sunday, he'll be going up against his very own brother. Travis Kelce is a tight end for the Chiefs, making them the first set of brothers in history to be playing opposite each other in the Super Bowl. Their mom Donna opened up about watching her sons square off against each other in an interview with TODAY and was careful not to cheer more for one son than the other.
"They've already got the first win under their belts, so this is just going to be pure joy," the proud mom told TODAY. "We're going to really enjoy this, have a great time. Obviously, there's going to be somebody that's going to go home heartbroken. They won't have the bragging rights at the Thanksgiving table, but this is going to be an awesome event and I'm really looking forward to it."
Jason's wife Kylie will be rooting for him at the Super Bowl... 38 weeks pregnant.
Jason married Kylie McDevitt in 2018, a former communications student and college hockey player, after the two met on a dating app in 2015. Since then, Kylie has been her husband's biggest cheerleader in the stands, so much so that he told his brother Travis on their podcast New Heights with Jason and Travis Kelce, "Kylie's bringing her OB because she's going to be 38 weeks pregnant at the game."
Kylie is expecting the couple's third baby, and will be 38 weeks pregnant on Super Bowl Sunday. And clearly they don't want to take any chances. She will be there with her OB-GYN to cheer her husband, and brother-in-law I guess, on and hopefully there won't be any issues. Although he did note that if she does give birth at the Super Bowl, according to People, "that could be a Super Kelce Bowl."
The couple's oldest daughter, Wyatt, was born in 2019.
Jason Kelce and wife Kylie welcomed their oldest daughter Wyatt in October 2019, and right out of the gate she was a big fan of her dad. In fact, the proud dad told his brother that both of his daughters would be at Super Bowl Sunday with their mom. And ahead of Super Bowl Sunday, Kelce caught his daughter Wyatt singing "Fly, Eagles, Fly" on the baby monitor. Obviously he was proud but also he said to wife Kylie, "What have we done?"
Their daughter Elliotte joined the family in March 2021.
Wyatt became a big sister when mom Kylie gave birth to Elliotte in March 2021. Little Elliotte has not been out in the world for a very long time, but she's about to become a big sister herself.
The couple are expecting another daughter very soon, hopefully not at the actual Super Bowl but very soon. We already have two Kelces playing in the Super Bowl. They don't need to be upstaged by another being born in the stands.