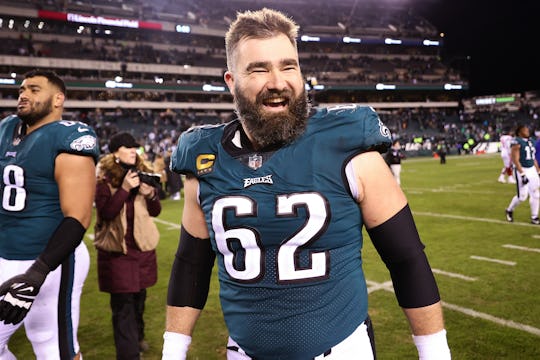 Tim Nwachukwu/Getty Images Sport/Getty Images
Jason Kelce's Wife Kylie Shares Photo Of Her Kitchen Island Covered In Scribbles
If your furniture and walls aren't covered in kid doodles, do you actually have a toddler?
Jason Kelce and his wife, Kylie, have their hands full at home right now with three little girls under 3 years of age. In a new post on her Instagram story, Kylie Kelce shared a behind-the-scenes peek at her life with her three little girls and it looked about as busy (and messy) as you might imagine.
Kylie and Jason Kelce welcomed their third daughter, baby girl Bennett Llewelyn, on Feb. 25, making 2.5-year-old daughter Wyatt and 2-year-old daughter Elliotte big sisters. Philadelphia Eagles' fans might remember that the couple brought Kylie's OB-GYN to the Super Bowl earlier in the month to be on the safe side as she was 38 weeks pregnant, but little Bennett stayed put for several more weeks.
Now that she has arrived, life in the Kelce household has gotten busy. Like, really busy. Because realistically the kids outnumber the parents. Plus, the children in question are two toddlers and one newborn, so things are bound to get a little chaotic. Like, say, when a toddler decides to draw all over a wall, or perhaps a kitchen island as said toddler was smart enough to sneak in by the stools out of plain sight, while their mother is trying to parent three little ones at once.
"Sometimes if you don't laugh... you'll cry," Kylie captioned the photo of her newly redecorated kitchen. But don't worry too much. "I'm no rookie. It's 'ultra-washable' crayola," she added on her post.
A second photo sees Kelce's two older daughters sitting in front of a fish tank looking laser focused on watching a fish swim around. The fish has apparently been named "Paci," and if you're wondering why, Kylie offered up a little insight.
"You may be wondering was this a bribe for Wyatt to give up her paci?" Kylie wrote in her post. "It sure as sh*t was."
The bribe seemed to work on several levels for the busy mom. One, it encouraged her daughter to move on from her pacifier. Two, it looked to be literally pacifying her two toddlers. Which is pretty genius if you ask me.