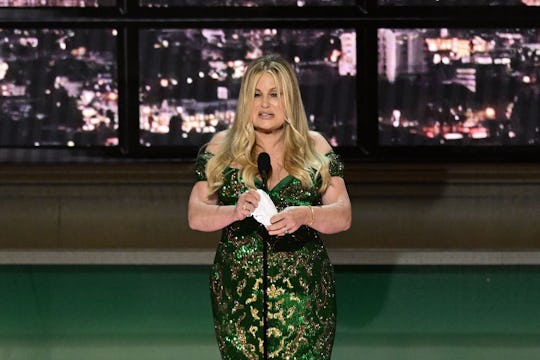 PATRICK T. FALLON/AFP/Getty Images
Jennifer Coolidge's Emmy Acceptance Speech Was Basically Perfect Improv
"Wait, hold on! Wait! Wait!"
Jennifer Coolidge won an Emmy for her performance as Tanya McQuoid in The White Lotus on Monday night, and it was difficult to tell who was more excited — her fans or her. Well, after Coolidge delivered a perfectly on-brand acceptance speech, complete with an impromptu dance to "Hit The Road, Jack" when she was being played off stage, I think her fans were the biggest winners of the night. A free bit of Coolidge improv right before our eyes.
The White Lotus actress hit the stage wearing a shimmering green dress, and after thanking her fellow nominees, and saying "just to be in your company, it's incredible," she explained that she "took a lavender bath tonight, right before the show, and it made me swell in my dress. And I'm having a hard time speaking." As the audience laughed, because you just know everyone in that audience is also a Jennifer Coolidge fan, she pulled out a speech and said, "This is so thrilling... oh sh*t, I didn't think this was going to happen. Hold on! Wait! Wait!" As Emmy fans know, there is a very small window for award winners to deliver their speech. And Coolidge was running out of time.
Coolidge went on to list the people she wanted to thank, including The White Lotus creator (and Emmy winner himself) Mike White, but unfortunately the music started to play over her words. "Wait, hang on," she said over the music. "This is a once-in-a-lifetime thing and I'm full, I'm full."
The music continued, so what did Coolidge do? Dance along to "Hit The Road, Jack." And win everyone's hearts at the Emmys. As if she didn't have all of our hearts already. "Jennifer Coolidge deciding to dance when the #Emmys attempted to play her off is a truly perfect moment," wrote one social media user, while another pointed out, "I would like Sheryl Lee Ralph and Jennifer Coolidge to be brought back out to speak for another five minutes. Cut a few bits. No one will mind."
This whole speech felt perfect for winning an Emmy for playing Tanya McQuoid, which makes sense because Coolidge told Deadline that The White Lotus creator Mike White actually based the character on her. "There are a lot of things about Tanya McQuoid that are similar. Mike stole a lot of those things because he witnessed me on a trip to Africa and I know he collected a lot of my eccentric ways and put them into the show," she explained.
Mike White knew what he was doing. Who doesn't want to watch Jennifer Coolidge all day, every day?