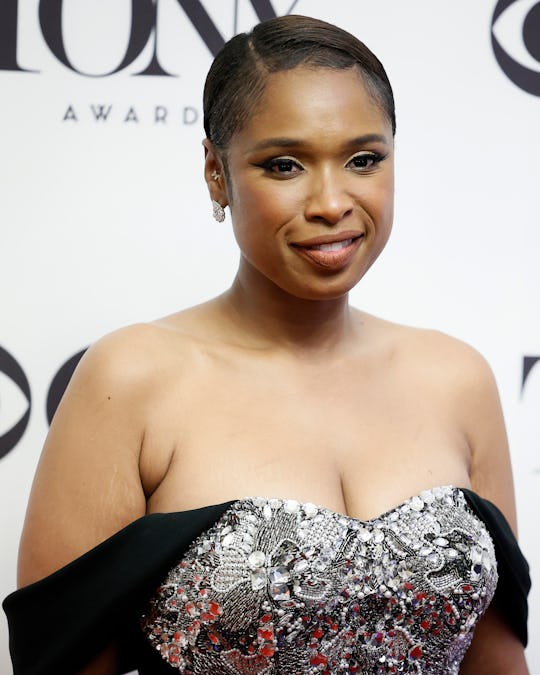 Jemal Countess/Getty Images Entertainment/Getty Images
Jennifer Hudson Is A Proud Mom, An Accomplished Artist, & Now An EGOT Winner
And makes history as the second Black woman to achieve this honor.
It's hard to believe that Jennifer Hudson only came in 7th place when she appeared on Season 3 of American Idol. Since then the mega-talented, singer, actress, producer, and mom to 12-year-old David has shot through the celebrity stratosphere to join one of the most prestigious "clubs" in Hollywood. With her role as a producer on the musical A Strange Loop, Hudson officially became an EGOT winner at the 2022 Tony Awards.
EGOT is an acronym for the four major American entertainment awards: an Emmy, a Grammy, an Oscar, and a Tony. Only 17 people in history have managed to nab the illustrious EGOT title, including icons like Whoopi Goldberg, John Legend, and Audrey Hepburn. Hudson is also the second Black woman in history to achieve this honor. Hudson won an Oscar for her role in Dreamgirls, picked up a Daytime Emmy for the animated short Baba Yaga, and is a two-time Grammy winner (with a whopping eight nominations).
While most people only dream of being an EGOT, Hudson had a strategy for making history all along. In addition to her tremendous talents, turns out the American Idol alum has her dogs to thank for being good luck charms. In an interview with People , Hudson joked: "I got a dog and named it Oscar, and then I won my Oscar. And then I got a dog and named it Grammy, and then I won my Grammy...So I think I should get some dogs and name them Emmy and Tony — and it'll give me good luck, and I'll win."
Hudson is no stranger to the bright lights of Broadway as she previously starred in the musical The Color Purple. Fellow celeb moms who were also producers on A Strange Loop include Ilana Glazer and Mindy Kaling.
Kaling was especially proud of her involvement in the musical that follows a Black queer Broadway usher named Usher and shared her enthusiastic shout out on social media. "I could not be more proud and ecstatic for the creative team behind @strangeloopbway. When @benjpasek told me about @thelivingmichaeljackson's musical, I read it instantly, and couldn't believe how audacious and hilarious it was. And I hadn't even heard the music or seen the incredible cast perform it yet! I so rarely get to experience something both profoundly moving and wholly original. A Strange Loop is that - and I'm so happy the Tonys see that too. This musical was years and years in the making and tonight is the shiniest celebration of that hard work. CONGRATULATIONS!!" Kaling captioned the post.
While Hudson is surely proud of achieving such a rare fete in the entertainment industry, her focus outside of her work has always been her child. Hudson, who has dealt with unspeakable family loss and tragedy, even credited her son for saving her life. In 2015, she told Glamour magazine: "I went from being an aunt, having a mom, and being a child to not having a mom, becoming a mom, and raising my own child," she said. "I tell David all the time, 'You saved my life.'"
Although J.Hud mostly keeps her son out of the spotlight, she does share the occasional social media post of some sweet bonding moments, like hitting up an NBA game together. "Theres nothing like seeing life thru your child's eyes and watching their dreams come to life," Hudson captioned the Instagram post.
And it must be pretty cool for Hudson's son to see his mom achieve her dreams, too.