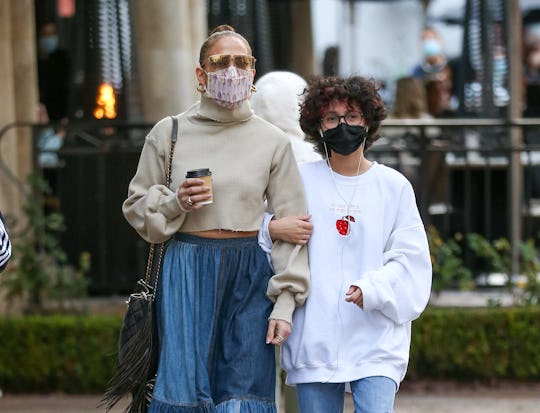 Bellocqimages/Bauer-Griffin/GC Images/Getty Images
Jennifer Lopez Is Being Praised After Introducing Her Child With Gender-Neutral Pronouns
They're her "favorite duet partner."
Jennifer Lopez is getting praised for using they/them pronouns to introduce her 14-year-old child Emme at a recent concert. The two were performing a duet at a Los Angeles concert when the proud mom of two introduced 14-year-old Emme as her "favorite duet partner of all time."
The "Jenny From The Block" singer was performing at the Dodgers Foundation's Blue Diamond Gala when she asked a very special guest to come on stage. Her 14-year-old child Emme. "The last time we performed together was in a big stadium like this. I ask them to sing with me all the time but they won't, so this is a very special occasion, because they're very, very busy and booked and pricey," Lopez, who is also mom to Emme's twin Max, said on Thursday, as reported by Page Six. "They cost me when they come out."
"They're worth every single penny because they're my favorite duet partner of all time," J. Lo continued. "So if you would indulge me." Emme then joined their mom on stage wearing a black baseball cap, shorts, sneakers, and oversized pink button-down shirt, and the two did a cover of Christina Perri's "A Thousand Years" for awestruck fans.
Lopez's use of gender-neutral pronouns did not go unnoticed by impressed fans on social media, who tweeted their own support. "Jennifer Lopez in full support of her daughter Emme and introducing them using their preferred pronoun 'they/them' --- I mean, all the more reason to STAN this QUEEN!!" Another fan wrote, "JLo models respectful parenting to a gigantic audience. It's not hard to support your kids."
The proud mom has often gushed about her two kids, so her very public support should come as no surprise to her fans. When the twins turned 14 back in February, she shared a moving video tribute to the two of them and wrote in an emotional message, "You have taught me the true meaning of life and have changed me forever in the most amazing way…I am so grateful for you both!!! I only hope I can be half of the blessing you have been to my life."
This isn't the first time Lopez has performed with Emme, who she shares with ex-husband Marc Anthony. The two partnered up at the 2020 Super Bowl halftime show to sing Lopez's hit "Let's Get Loud" and even joined their mom and Shakira to sing "Waka Waka."
And certainly Emme seems to be following in their mom's footsteps with their impressive pipes. New duet album in the future maybe? Time will tell.