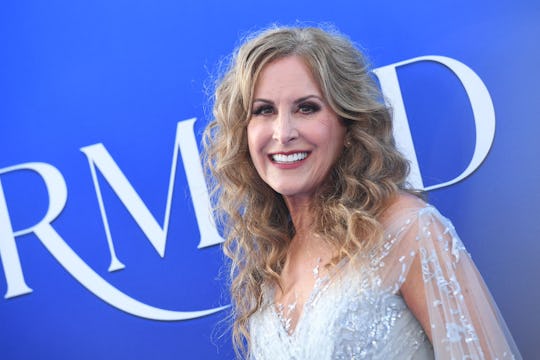 VALERIE MACON/AFP/Getty Images
Jodi Benson Makes A Symbolic Cameo With Halle Bailey In The Little Mermaid Remake
She passes the dinglehopper.
Jodi Benson has been voicing versions of Ariel from The Little Mermaid for more than three decades. She was the voice of the adventurous young mermaid in the 1989 version and has gone on to play Ariel in Disney animated films, video games, and television shows since. It's a long time to play one character, a long relationship to have with one storyline. So when the live-action remake of The Little Mermaid was being filmed and Benson was asked to be in a short cameo in the film, of course she was happy to oblige. Especially since the cameo sees the original Ariel "literally passing the torch" to the new Ariel played by Halle Bailey.
In the 2023 version of The Little Mermaid, Benson plays a vendor at a street market Ariel visits with Prince Eric (Jonah Hauer-King). She hands Ariel a plate of food and, most significantly, a fork which Ariel, who has lost her voice after making a deal with Ursula the Sea Witch (Melissa McCarthy), knows as a dinglehopper from her human lessons with Scuttle (Awkwafina). Ariel takes the fork and combs her hair with it in a callback to the original film, and with that Benson has passed the fork, or the torch, on to the next Ariel. It's actually quite lovely.
Benson explained to Entertainment Weekly that she was "thrilled" when director Rob Marshall got in touch to ask her to have a cameo in the movie. "It was just a huge thrill for me when Robbie reached out. I'm like, 'Of course I'm gonna come! I don't care what I'm doing. I just can't wait to get around the set and watch all of you work,'" Benson told the outlet. "It was just pure joy for me."
For his part, Marshall told EW that having Benson in the film would be "perfect" if they could pull it off. "We thought, 'It is just so perfect to have her in that, if it felt like it could be organic and not too stunt-y.'" It appears they found their way.
Benson managed to keep her involvement a secret throughout all of her press appearances, where she has been vocal in her support of updates and changes to the original Little Mermaid. "I do feel all of the nuances and small, slight changes here and there are very important," she told People. "It's very important to address what's going on right now in our world and to make it effective for our period of time, where we are right now in this generation."
As for Halle Bailey's portrayal of Ariel... well, she has passed the torch. And that says it all.
The Little Mermaid is in theaters now.