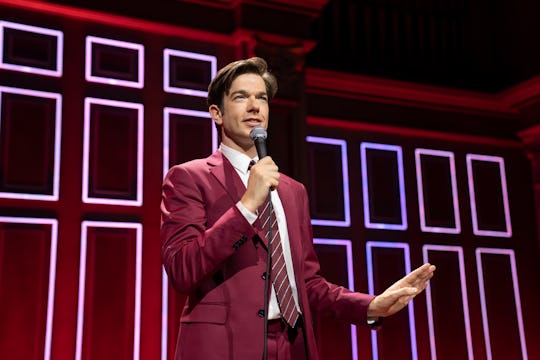 Netflix
John Mulaney Is Releasing His First Comedy Special Since Becoming A Dad
Baby Malcolm has become a favorite topic for his stand-up.
The last few years have seen significant change happen in John Mulaney's life. His marriage ended, he started a new relationship, he went to rehab after struggling with drug addiction, and he became a first-time dad. All of which he's expected to talk about in John Mulaney: Baby J, his upcoming Netflix comedy special. Here's what else you need to know.
Mulaney will likely discuss deep topics in Baby J, including his struggles with addiction.
Mulaney might be a comedy writer and well-seasoned comedian with credits like Saturday Night Live, Big Mouth, and Puss In Boots: The Last Wish under his belt, but he's not afraid to get serious while being funny. In John Mulaney: Baby J, which was filmed in the Boston Symphony Hall in February 2023 when the comedian was performing John Mulaney: From Scratch, he touches on some deep topics. Including the intervention friends like Seth Meyers and Nick Kroll staged to get him to rehab in 2021. He previously spoke to Meyers on his talk show about the intervention, saying he knew what was coming as soon as he opened the door. "I knew right away it was an intervention," he told Meyers. "That's how bad of a drug problem I had. When I opened the door and saw people, I went, 'This is probably an intervention.'"
John Mulaney: Baby J is his first comedy special as a dad.
In November 2021, things were looking better for Mulaney as he and new partner Olivia Munn welcomed their baby boy Malcolm, who has of course become a favorite topic for his stand-up routine as evidenced by his SNL monologue last February.
"Light is just shining in his eyes, it's really bright. He's not crying or anything, he just looks up at the light and this is what he does," said Mulaney, recounting his son's first moments in the delivery room with his face all scrunched up. "He was annoyed but he didn't say anything, and I'm like 'That's my son: a polite man in an uncomfortable situation but he's not going to make a fuss.'"
Baby J is expected to continue expanding on Mulaney's new life as a dad, especially considering this is his first comedy special since Malcolm arrived.
Mulaney dropped a hint about the name of his new comedy special a year ago.
During his SNL monologue in February 2022, as Vulture pointed out, Mulaney snuck a hint in about the name of his upcoming Netflix special when he talked about the Jan. 6 insurrection and how it wouldn't have happened on his watch. "Because I would've seen to it. Was there ever an insurrection before I went to rehab? No! Has there been one since I got out? Absolutely not! They wouldn't dare. They know Baby J is back on the streets!" Baby J is indeed back.
When does John Mulaney: Baby J premiere?
John Mulaney: Baby J, Mulaney's third Netflix comedy special, premieres on Netflix on April 25. In the meantime, you can still watch Kid Gorgeous from 2015 and 2019's New In Town while you wait for Baby J to drop.