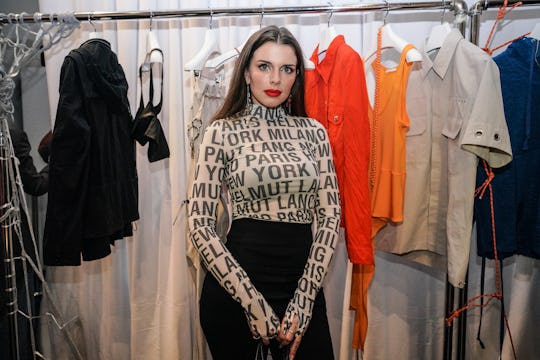 WWD/Penske Media/Getty Images
Julia Fox's Apartment Tour Is Peak Mom Realness
It's basically her son's apartment for his toys.
Julia Fox is giving fans a glimpse behind the curtains at her glamorous life... or not-so-glamorous lifestyle as a mom of one depending on how you look at it. Fox offered a tour of her apartment in New York City, which she shares with 1-year-old son Valentino. And if you were imagining some sort of luxurious space, you're way off. The model and Uncut Gems actress shared a very down to earth tour of her apartment in New York on TikTok. Despite her certainty that she would get "roasted" for her apartment tour, Fox explained that "Hopefully, maybe someone can watch this and say, 'Okay, maybe I'm not doing so bad.'"
The tour starts in her bedroom, which is actually a converted living room. Why is she sleeping in the living room? "I put my bed here in the living room so I could turn my bedroom into a little playroom for Valentino," she explained, panning out to show her former bedroom and Valentino's current playroom. Her living room/bedroom features a "nostalgia mirror" with photos of her little boy, who she shares with ex-husband Peter Artemiev, and friends she has lost.
The tour followed along through her long, cluttered front hallway (complete with crowded shoe rack and stroller) where she said "nothing happens" other than a white board with Valentino's schedule on it. While Fox's apartment might be more modest than you would expect from a celebrity, it does feature two kitchens: one (play) kitchen for Valentino and one for her, although hers is full of shoe boxes. "Which is very common for New York," apparently.
The pièce de résistance of the apartment is Valentino's bedroom, which features a lofted area, a playmat, bookshelves, and lots of sweet toys. "I put the most effort into this room, I think," Fox explains, because "I really wanted him to have a cute room." A room that is lost on him. "He does not hang out in here at all," she says. "He only wants to be in Mama's room. He doesn't even sleep in there. He sleeps with me. Yeah, we're co-sleepers. Sue me."
Several of Fox's followers noted that her apartment tour was actually a tour of her son's apartment. "That's Valentino's apartment," wrote one, while others felt seen by her realistic-looking home. "OMG thank you for posting this. I love it when people show a home that looks lived in!!! Congrats on your new place. It's lovely!"
Fox's modest apartment is in keeping with her previous assertions that she was not interested in focusing on possessions as a mom. "I think that the idea of childhood was invented as a way to just get parents to spend a lot of money on sh*t that ... is not really teaching your kid anything, you just end up raising a kid that's like helpless and doesn't know what to do," she said on TikTok last year.
She might not be buying lots of stuff for her son, but she's certainly made him ruler of the roost in her little space.