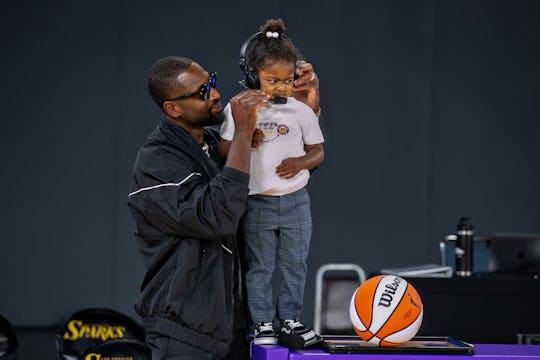 Jason Armond/Los Angeles Times/Getty Images
Dwyane Wade's 4-Year-Old Daughter Kaavia Recorded A Sweet Video For His 41st Birthday
"May this year be as strong and bountiful as your hairline."
Dwyane Wade received some sweet, shady birthday love from his youngest daughter, Kaavia James. In a sweet video shared on her Instagram, the 4-year-old wished her dad a happy birthday — dressed in a Disney Princess gown, of course — and even complimented Wade's "bountiful" hairline.
"Happy birthday, daddy," Kaavia says in the video as Gracie Corner's birthday song plays in the background. "I know you're going to have a great birthday, we're going to sing 'Happy Birthday' to you tomorrow, and it looks like you're very happy to see me today."
She concluded, "I'll see you tomorrow, but not see you, just see you on your phone, okay? Okay, bye." The video ended with snapshots and videos including one of her, her mom Gabrielle Union, and Wade at the beach.
"Happy Birthday to my Daddy!!! May this year be as strong and bountiful as your hairline," the caption of the video read.
Viewers commented under the toddler's videos, mostly referring to her Shady Baby fun attitude. One person wrote, "That was a hint with a little shade 'see you tomorrow and not on your phone' #too cute."
Another added, "They don't call her shady baby for nothing see you tomorrow and not on the phone."
The retired NBA star, who turned 41 on Jan. 17, commented under the video, "my baby" with heart emojis.
Zaya Wade, 15, also wished her dad a happy birthday on her Instagram. "happy birthday Dad 🖤 I hope you have an amazing day. I love you so much," the teen captioned a Polaroid-style picture of the two of them.
Union shared a reel of a few favorite moments with her husband on Tuesday. "The EVOLUTION will be televised," she captioned the video. "Another year around the sun and more lessons learned and more adventures had. May this year bring peace to your soul and light to your inner child. I love you baby, Happy Birthday."
On his Instagram page, Wade posted a video recorded by his oldest son Zaire, 20, of him dancing outside of his car. "BackOutside #41," he captioned it. Wade is also a dad to son Xavier Zechariah, 9
Needless to say, Wade got birthday love from everyone in the family. But it's his youngest who clearly has him wrapped around her fingers.