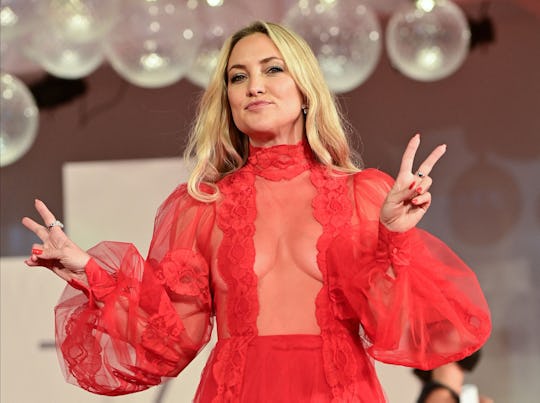 MIGUEL MEDINA/AFP/Getty Images
People Got Real Judgy After Kate Hudson Shared A Photo Of Her 3-Year-Old In A Stroller
"Not your kid, not your day out, not any of your business. Jog on."
Kate Hudson was just enjoying a stroll in New York City with her 3-year-old daughter, Rani Rose, until some judgy folks entered the chat. In the comments of a new photo the actor shared on Instagram, people criticized her for wearing socks with sandals, begged her to make another rom-com, and implored her to stay safe on the city streets. But the worst part was when they shared their opinions about Rani riding in a stroller.
On Monday, the Truth Be Told actress posted a gorgeous picture on Instagram of her and Rani, whom she shares with fiancé Danny Fujikawa, out for a stroll in New York City. "Someone's becoming a little city gal," she captioned the shot. In it, Hudson is wearing jeans and a white tank top paired with white sandals and white socks. She completed her casual look with a baseball cap and sunglasses, and her long blonde hair is blowing gently in the wind.
Hudson, who also is mom to Ryder Robinson, 18, with Chris Robinson and Bingham Hawn Bellamy, 10, with Matt Bellamy, is pushing Rani in a stroller across a crosswalk in the picture. The little girl squints in the sun and smiles for the camera. She's wearing rainbow-print leggings dotted with stars, a pink tulle shirt, and gold sandals, and seems genuinely happy spending time with her mom.
The photo is adorable, and many nice people thought so too. "Cuteness overload," one person wrote. Another commented, "Look at the sheer happiness in her smile, amazing! P.s. loving the DIOR sandals."
"Rani makes me so happy !" wrote another. Someone else added, "I love her outfit combinations ... so adorable."
Peppered in between were jokes about the socks and sandals — "Socks AND Sandals!?!" wrote one person — and movies. "Kate we need a fun romcom with u!!!!" said a fan. "Stay safe out there," warned another, presumably about being in NYC. These are innocent enough, but the people commenting on Rani riding in a stroller were being absolutely ridiculous.
"Too big for a stroller," wrote one person.
"Also becoming a little big for stroller," another said, while trying to deflect the rudeness with heart emojis.
Someone else wrote, "Is she not a little too big for a stroller."
"Her legs [aren't] broken. Walk lil girl," another commented.
"Do kids this size really ride in strollers still? .. Not a mother here," added one more.
Others defended her. "I knew, immediately, that some people would comment on the stroller," one person said. "Strollers/ pushchairs are invaluable in a city, especially if it's a hot day. @katehudson and any mother can tell you is that you do what ever suits your child and you. You do whatever makes your lives easier. She's a loving mother of three for crying out loud; she knows what she's doing." Another said, "Hey stroller / pushchair police. Not your kid, not your day out, not any of your business. Jog on."
Listen, moms are tired. Keeping the kids alive and having fun with them at the same time can feel impossible, so every little thing helps. Maybe Rani likes running off into oncoming traffic and her mom wants a little peace of mind. Maybe they've been out all day and the little girl — who is only 3! — is tired. Maybe moms just want a damn break and loading up the stroller makes their day a tiny bit easier.
Let big kids ride in strollers, let moms wear sandals with socks, and take a breather before you comment on another mom's parenting skills. Then set down your phone and do something else instead.