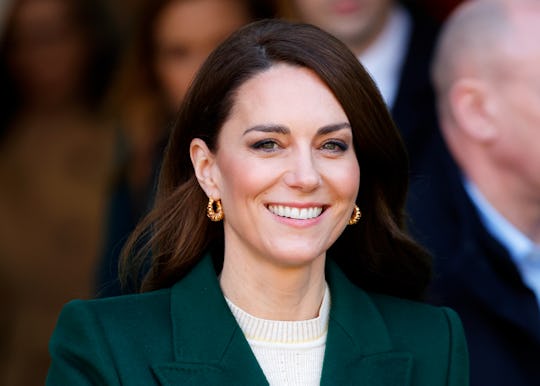 Max Mumby/Indigo/Getty Images Entertainment/Getty Images
Kate Middleton Used A Classic Mom Move To Comfort A Royal Fan Who Asked For A Selfie
She reminded him that "everyone gets nervous."
The Princess of Wales surprised shoppers in the town of Leeds recently with a royal walk through town to promote her new charitable campaign "Shaping Us," an initiative designed to shine a spotlight on the first five years of a child's life. While walking through town she was approached by royal watchers hoping to get a photo with her, no big surprise there of course. But one man seemed genuinely surprised when she stopped walking to come over to him and pose for a selfie, leaving him fumbling with his camera nervously. Middleton stepped up to the plate with her soothing mom energy and calmed him right down.
Middleton walked through the Leeds Market to greet shoppers on Wednesday in an effort to promote her early years education awareness campaign and was naturally met with considerable enthusiasm. One man in particular was excited to see her, calling out to the mom of three and asking for a selfie. In a video shared on Twitter, Middleton is seen stopping with a smile and turning to the man. He looks a bit shocked and says, "Sorry, I'm just really nervous," while he tries to access the camera on his phone. Middleton turns to face him with a serious look and says, "Don't be so worried, it's okay. We all get nervous." They pose for a selfie and she tells him, "Well done. Nice to meet you. Take care!"
It isn't what Middleton said to this man so much as they way she said it. She was not flippant or dismissive. She turned to comfort him and reminded him that it's not unusual to feel nervous sometimes. You can really see all of those soothing maternal instincts she must use when dealing with 9-year-old Prince George, 7-year-old Princess Charlotte, and 4-year-old Prince Louis. Such a classic mom move.
Bringing that down-to-earth mom energy on royal visits has become somewhat of a hallmark for Middleton, perhaps especially when children are involved. Like when she crouched down with a little boy in November to have a chat and gave him her poppy or kept a young boy company on the train while his dad was busy.
Kate Middleton is simply at her best when called to offer comfort, always looking relaxed and natural. Clearly in her element.