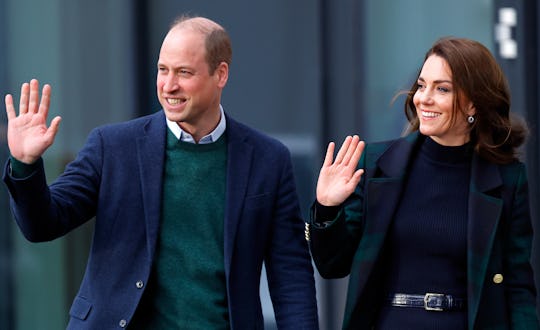 Max Mumby/Indigo/Getty Images Entertainment/Getty Images
Kate Middleton Is Not Expecting This Classic Valentine's Day Gift From Prince William
Perhaps he'll fix her a cocktail after the kids go to bed instead?
Valentine's Day is just around the corner, so what does a future king have in mind to show his darling wife just how much he loves and appreciates her? Well, one thing's for sure, the Princess of Wales is not expecting any roses from Prince William.
Kate Middleton was at the Leeds Kirkgate Market this week, chatting with local vendors to kickstart her new early years initiative Shaping Up, when she stopped by a flower stall to chat with local florist Neil Ashcroft. The florist gallantly presented the Princess of Wales with a bouquet of hyacinths, which she happily accepted. Apparently Ashcroft was hoping to make a sale, because he said to her, according to Hello!, "No doubt William will be buying you some red roses," referring, of course, to her husband, the Prince of Wales. And apparently he's not much of a romantic, because Middleton reportedly responded, "I don't think he will do."
Now to be fair to Prince William, he could well be getting her roses. Or doing something else romantic. He has been known to be a thoughtful husband in the past, like when he fixes her a nightly cocktail after the kids are in bed so she can enjoy an evening of scrolling through YouTube makeup tutorials and online shopping.
Certainly the couple, who have been married for 12 years and are parents to 9-year-old Prince George, 7-year-old Princess Charlotte, and 4-year-old Prince Louis, have been known to be fairly romantic in the past. Middleton called her husband "a true romantic" when he proposed to her in Kenya in 2010 in their engagement interview. Prince William was away working as a helicopter pilot for their first Valentine's Day as a married couple and managed to send her a card and some flowers in 2012. So he does know how to pull out all the stops in a pinch.
But the reality is they've been together for nearly two decades. Things change. And honestly, as a mom of three, Middleton would probably be just as happy with a relaxing night of streaming new show together and a pizza. Just so long as Prince William doesn't eat it on the sofa.