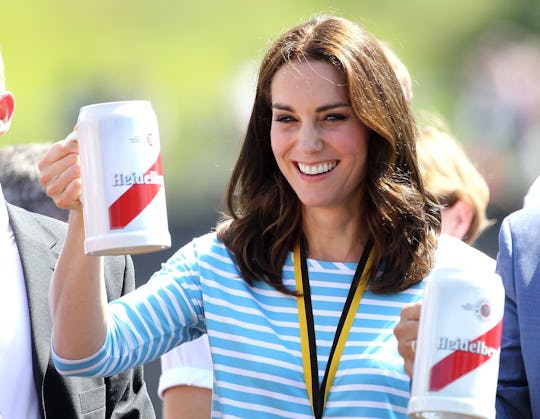 DMC/GC Images/Getty Images
Kate Middleton Takes No Prisoners In Beer Pong
Especially against Prince William.
We should probably be more surprised that Kate Middleton not only plays beer pong, but is quite competitive about it. After all, she is the future Queen of England, married to the heir to the throne, mother to the next three heirs to the throne. Daughter-in-law to King Charles III. Owner and wearer of more than one tiara. And yet, it came as no real surprise to have her cousin-in-law Mike Tindall gently tease her about being competitive about beer pong. For some reason, it just feels right.
The Princess of Wales joined husband Prince William and aunt Princess Anne for a surprise appearance on Tindall's podcast The Good, The Bad, & The Rugby last week. Tindall is married to Prince William's cousin Zara Tindall, making Princess Anne his mother-in-law and the entire show a family affair. The royal family discussed all things rugby, which makes sense as Prince William is patron of the Welsh Rugby Union, Middleton is patron of the Rugby Football Union, and Princess Anne is patron of the Scottish Rugby Union.
The sporty trio talked about their love of the sport, and Tindall decided to get in a little gentle teasing about Middleton's naturally competitive streak. "I'm not going to say you're uber competitive," he teased the mom of three, who responded that she's "not competitive at all," but no one was having it. "I've seen her play beer pong!" Tindall countered. And now we are all picturing it.
Middleton, who is mom to 10-year-old Prince George, 8-year-old Princess Charlotte, and 5-year-old Prince Louis, eventually conceded that she has a competitive streak. Especially if she and her husband are the ones playing beer pong or even the more sedate game of table tennis against each other. "I don't think we've actually managed to finish a game [of] tennis, the two of us," Middleton admitted. "It becomes a mental challenge between the two of us."
Prince William agreed that the game becomes a battle of wits between the two where they try to "out-mental" each other.
Royal fans have certainly seen evidence of their competitive nature with our own eyes. Like when the two entered a cocktail-making competition on a royal tour and took it very seriously, for instance. Or when they were on their honeymoon tour of Canada and got super competitive about sailing. Competition seems to be their love language, so I guess this means their marriage is thriving.