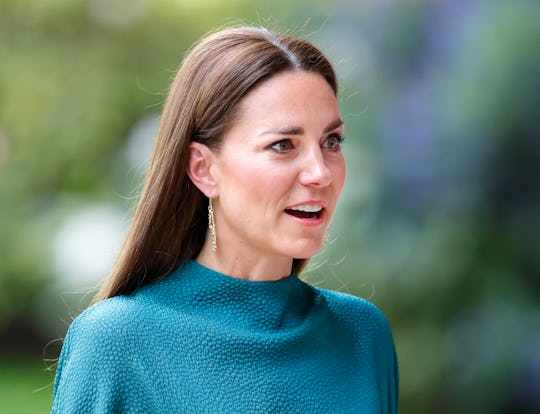 Max Mumby/Indigo/Getty Images Entertainment/Getty Images
These Startling Wax Figures Of Kate Middleton & Prince William Can Never Be Unseen
"They look like their bodies were just lifted out of the Titanic."
Creating wax figures based on celebrities is a time-honored tradition, just ask Madame Tussaud. The idea of standing next to a wax figure that looks exactly like your favorite actor, your favorite historical figure, or even your favorite royal can be a fun way to pretend to be close to the person without them having the option of getting away. And I suspect that Kate Middleton and Prince William would indeed want to get away if they happened to see the wax figures of themselves at what a TikTok user described as the "worst wax museum in Poland." I'm sure it was meant to be flattering, but these wax figures were way, way off the mark. So far off the mark you won't be able to look away, in fact.
TikTok user Becca Blackburn shared a video from a recent visit to the Krakow Wax Museum in Poland, where she lead her followers on a tour through some of the most bizarre wax representations ever. Harry, Ron, and Hermione from Harry Potter were represented with robes and questionable wigs on hand. Shrek, Mike Tyson, Lady Gaga, some of whom looked passably like the celebrity they were modeled after. Most not so much. But it was the grand finale that really stuck the landing. Kate Middleton and Prince William, or so we are told.
Kate Middleton is perhaps slightly more recognizable due to her fascinator and trademark long brown hair, in this case a horrible wig. But it is Prince William who really takes the cake here. In fairness, whoever created the wax figure gave the future King of England a bit more hair than he has in real life, so that was nice. But that's where the kindness ends.
The TikTok video has gone viral with fans who cannot get over these wax figures. "It's like they did them all based off of what they remember," wrote one user while another added, "I thought it was getting better then it got to prince willliam and Kate."
The wax figures of the royal couple even got a mention on The Late Late Show with James Corden this week. "They look like their bodies were just lifted out of the Titanic," James Corden joked. "Although on the plus side, at least we all know now what they both would look like if they got infected in The Last of Us."
It feels important to note that these stunningly awkward wax figures are not the only wax representation of the couple. Madame Toussaud's in London has some beautiful figures based on Kate Middleton and Prince William that they update regularly. So I guess you have two choices. Accurate representations or these haunting mannequins. I'm booking my ticket to Krakow now.