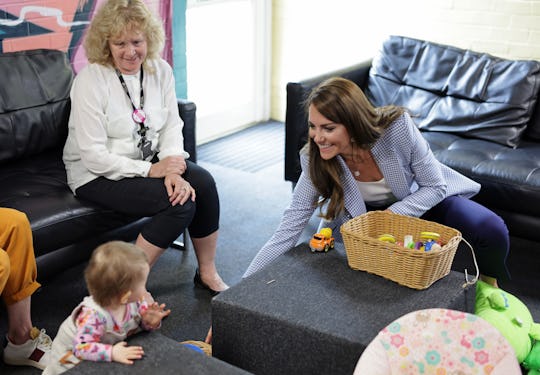 Chris Jackson/Chris Jackson Collection/Getty Images
Kate Middleton Attended A Baby Massage Class & Awwed Over Their "Squidgy Legs"
The Princess of Wales simply cannot keep her composure around cute babies.
If you want to get close to Kate Middleton, just be a baby. The Princess of Wales cannot keep her composure around babies, it's really become her staple. Case in point; during a recent visit to the Windsor Family Hub, she got right down on the floor to join a baby massage group. And she told fellow parents that she could not resist the babies' "squidgy legs." Which should surprise exactly no one in the world.
The mom of three visited Windsor Family Hub, which is near to her new home of Adelaide Cottage, to check out the services offered to parents, caregivers, and little ones as part of her ongoing commitment to support the early years with her charitable work. While there Middleton, who is mom to 9-year-old Prince George, 8-year-old Princess Charlotte, and 5-year-old Prince Louis, praised the center as a "lifeline" for parents and caregivers. Even parents like herself.
"I need to come here and pick up some stress management tips," she admitted to the group, per The Mirror. Not pointing any fingers here but we're looking at you Prince Louis.
Perhaps what Middleton needs to do is drop by for a daily dose of baby massage. Because once the Princess of Wales got down on the ground to participate in the group activity, using a doll to practice, she said that she loved the "squidgy legs" of babies, according to The Mirror. I wonder if she was hinting that she'd like to borrow a baby from a fellow mom.
Middleton has a long and storied history of being particularly enamored of all babies. Last February, she told a mom in Copenhagen that she gets "broody" around babies and it's a cause of concern for husband Prince William. "It makes me very broody," the duchess said during her visit to Stenurten Forest Kindergarten. "William always worries about me meeting under one-year-olds. I come home saying, 'Let's have another one.'"
They have not had another baby, so Prince William doesn't need to worry. Instead, Middleton appears to have contented herself to hanging out with other people's babies as part of her work. Which is actually kind of genius; she can show those squidgy baby legs some love then go home for a full night of sleep and no diapers. Amazing.