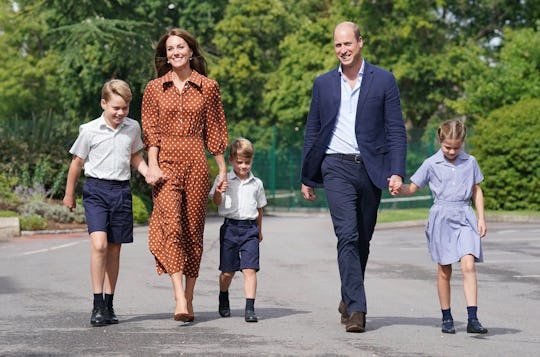 Pool/Getty Images Entertainment/Getty Images
Prince Louis Is A Classic Third Child In New Photo Of Kate Middleton With All 3 Kids
If there are two things we know for sure about the Princess of Wales it's that she loves her kids and loves spending time in nature. So when Mother's Day came around on Sunday in the UK, what better way for this mom of three to spend her day than out in the sun with her kids? She and husband Prince William released a photo for the holiday, and she certainly looks to be perfectly in her element. Skinny jeans, white sneakers, the whole thing really suited her.
Middleton climbed up into a tree to pose for a Mother's Day photo alongside 9-year-old son Prince George, 7-year-old daughter Princess Charlotte, and 4-year-old son Prince Louis. Who was naturally seen holding his mother's hand in the photo in a move familiar to babies of the family everywhere... they always have to get that little extra, right? The three siblings all wore shorts and blue shirts, not matching yet somehow effortlessly coordinated as is so often the case with their family photos.
Most importantly, the entire family looked like they were having a great time in the trees together.
Speaking of Prince Louis being such a quintessential baby of the family, Middleton and Prince William also included a photo of her holding him in her arms like a baby. So he got his very own photo shoot with his mom. And we can only assume his older brother and sister were off in the corner rolling their eyes because "Lou-Lou," as they call him, needed his own little moment.
Middleton might still see Prince Louis as her "baby," but of course she is a mom who gives lots of attention to all three of her children. In fact, this photo sort of gives a bit of insight into how she relates with each of her kids in a way. She's holding Prince Louis' hand while Prince George sits behind her leaning into her and Princess Charlotte mirrors the way her mom is perched on a branch. All of them look like they're her pals.
And on Mother's Day, you can't say much better than that, can you?