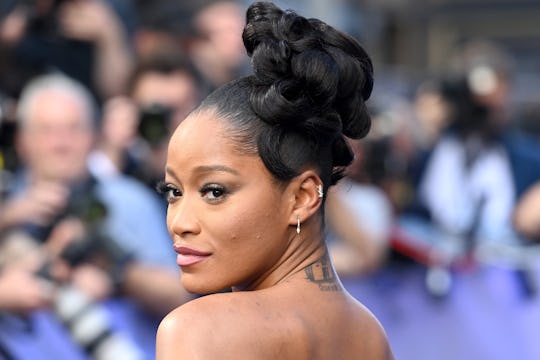 Dave J Hogan/Getty Images Entertainment/Getty Images
Keke Palmer Tears Up Talking About Single Parenthood In New Video
"I really don't know how you did it."
Keke Palmer and Darius Jackson have been parents for mere days, but the new mom is already thinking about what it would be like if she were on her own with her baby boy. And the thought of it alone has left her feeling "profoundly impressed" by all that single parents need to do.
Palmer, who welcomed baby boy Leodis "Leo" Andrellton Jackson on Feb. 26, took to Instagram a little over a week after bringing her son home to share a message with single parents. "I just came out here to say, if you are a single parent, pull out your cape," Palmer said in a video she captioned "I ain't gon' lie, I'm gettin' COOKED."
"Matter of fact, clip off your angel wings, because I really don't know how you did it," Palmer added. The new mom went on to say she didn't want to sound as though she was "pandering" because she understands there are plenty of reasons why someone might be raising their child as a single parent. "Maybe they lost somebody, maybe they don't want to deal with somebody, maybe it's a choice." But from where Palmer is sitting, she believes that "when it comes to raising a kid, I've already learned in these short few days that it takes a village. And sometimes that's a privilege."
Getting more emotional, Palmer went on to say that she wanted "anybody out there that's a single parent that's been doing this, friends of mine, people that I don't know, family members of mine, I'm really in my heart, and it brings tears to my eyes, profoundly impressed."
Palmer's video resonated with other moms like fellow actress Viola Davis, who responded "Amen!!! This needs to be on repeat!!" and Taraji P. Hensen who wrote, "#singleparenting I wouldn't wish it on my worst enemy!!!!!!"
Single motherhood is not for the feint of heart, I know. Because I raised four sweet boys as a single mom. And there is a kind of comfort in being recognized for figuring things out on your own as a parent. But I also know that parenthood is not for the feint of heart. That villages come in all different shapes and sizes. And that those early days of motherhood, the very ones Palmer is herself living through right now, can make a person feel especially unsteady.
Single parenthood, like all parenting, is a mixed bag of emotions. We all deserve to wear capes, single, married, or otherwise.