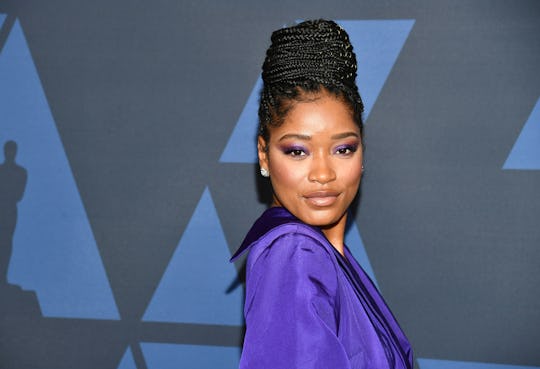 Variety/Penske Media/Getty Images
Keke Palmer Shares Sweet Update On How "Mommy'ing" Is Going Weeks After Giving Birth
"If you thought I was a bad mama jamma before, you can't imagine the greater purpose my son has given my life!"
Keke Palmer has been a mom for less than a month, and already she cannot get over how much her life has changed. Her little baby boy, Leo, is helping her learn how to "balance," Palmer shared in a recent Instagram post, and it seems all of the "Mommy'ing" is coming along beautifully.
Palmer and her boyfriend Darius Jackson welcomed son, whose full name is Leodis Andrellton Jackson, at the end of February, and since then the proud new mom has been sharing sweet updates on how the little family is adjusting. Like on Monday when she was excited to take "Mookie Mook for a stroll today," she wrote on Instagram along with a sweet collection of photos.
"Mommy'ing is coming along if you were looking for an update," Palmer added. "I have juggled quite a few careers but this is my greatest gig of all. Learning how to balance it all and looking forward to discovering this new person I am becoming."
The new mom admitted that she "will never be the same again," but that is not a bad thing. "If you thought I was a bad mama jamma before, you can't imagine the greater purpose my son has given my life!"
It isn't just her love for her baby boy that has changed, it's all of those shopping options that have opened up in her life. Palmer is "loving the new world I get to indulge in now as a mom. I have so many things bagged in my Amazon cart, haven't quite pulled the place the order button, but it feels good just adding it to the cart. You know, fake shopping hahaha. Mom 'stuff' is a big business, who knew."
I mean... moms knew. And now that Palmer is a mom herself, she gets to know too. Becoming a mom has made the actress more in tune with how truly difficult parenting can be, so much so that she recently shared an emotional shoutout to single parents on Instagram. Palmer explained that she was "cooked" bringing a baby into the world with a partner, and realized that "when it comes to raising a kid, I've already learned in these short few days that it takes a village. And sometimes that's a privilege."
Little Leo has his mom really looking at the world with a whole new lens. Finding balance, showing appreciation, and adding to cart. What a world.