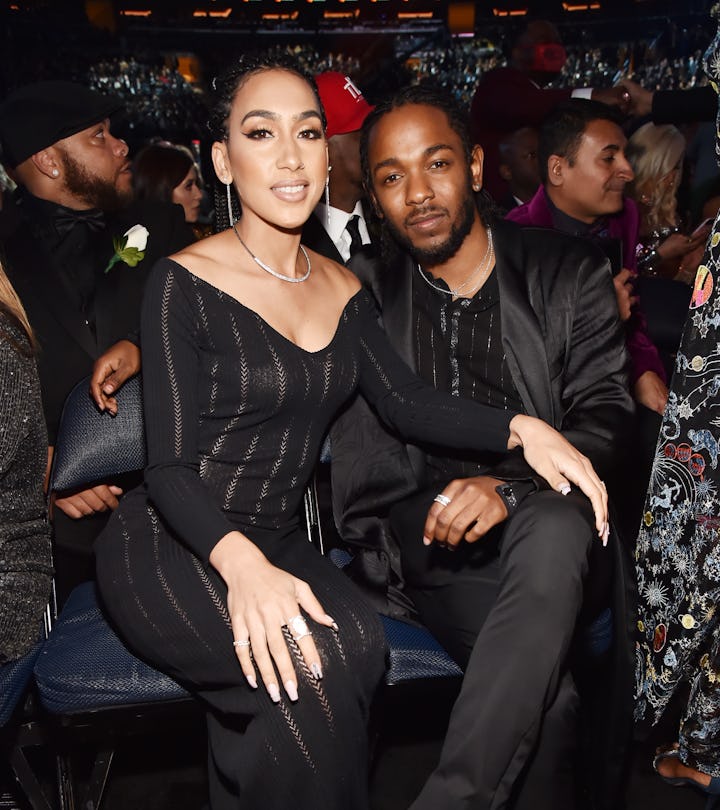 Kevin Mazur/Getty Images Entertainment/Getty Images
Kendrick Lamar Owes His Latest Grammy Nominations To His Two Children
The artist is extremely private, but is "loyal to the soil."
Kendrick Lamar is celebrating a whopping eight nominations at the 2023 Grammy Awards — Record of the Year, Album of the Year, Song of the Year, Best Rap Performance, Best Melodic Rap Performance, Best Rap Song, Best Rap Album, and Best Music Video — making him the second most nominated artist of the year (and there's no shame in being one award short of Beyoncé). Win or lose, Lamar can celebrate his nominations with his long-time partner and two children. The Pulitzer and multi-Grammy-award-winning artist is famously reserved about his private life, but there are a few facts we managed to find about this adorable family.
His fiancée has been in the picture for years
Turns out Whitney Alford and Lamar are high school sweethearts. The couple attended Centennial High School in Compton, California, but didn't make their first public appearance together until 2014 at the 56th Grammy Awards. By the time they announced their engagement in 2015, the couple had been dating for 10 years.
"I'm loyal to the soil," the 34-year-old told The Breakfast Club in a 2015 interview. "At the end of the day, you want to always, always have real people around you, period. Whether it's male or female, and everybody that's been around me, they've been around since day one… I always show respect when respect has been given, and people that have been by your side, you're supposed to honor that."
There's some speculation that the two married in secret. But as far as public reports are concerned, they are still engaged. But whatever their official status, it's one of those 'what's shown, does not need to be defined' love matches. Lamar told Billboard, "I wouldn't even call her my girl. That's my best friend. I don't even like the term that society has put in the world as far as being a companion — she's somebody I can tell my fears to."
That's a soul toucher there!
Lamar has a daughter named Uzi.
Lamar told The New York Times Style magazine two years prior to his daughter's July 26, 2019 birth that he wanted a daughter.
"One day, I may have a little girl. And it's a girl in particular — funny you said that," he told The New York Times. " She's gonna grow up. She's gonna be a child I adore, I'm gonna always love her, but she's gonna reach that one point where she's gonna start experiencing things. And she's gonna say things or do things that you may not condone, but it's the reality of it and you know she was always gonna get to that place. And it's disturbing. But you have to accept it. You have to accept it and you have to have your own solutions to figure out how to handle the action and take action for it."
But in characteristic Lamar fashion, in which he keeps his personal life largely out of the public eye, Uzi's name — which is tattooed on his arm — was a mystery until 2022.
His son, Enoch, was revealed in 2022.
We don't know exactly when Lamar and Alford welcomed their second child, but he had a pretty dramatic reveal: the cover of Lamar's fifth studio album, 2022's Mr. Morale & the Big Steppers, which features the whole family.
The track "Worldwide Steppers" references not only listening to "Baby Shark" with his daughter, but that he would "kill for my son Enoch."
We have Uzi and Enoch to thank for Lamar's latest album.
In an interview with W, opened up about parenting, telling the magazine, "My children allowed me, in their development as human beings beginning to walk and talk, to remove my ego, to know that my children, too, will have their own independence. That allows me to understand the unconditional love on my end — will I allow them to be themselves? Will I allow them to journey off in the world and experience life for what they know of? That's love, to me. And when I look at that, I try to apply it with how I express myself, how I look at my career, and how I meet other individuals. Am I allowing them to be themselves without any judgment? My children have taught me that."
He also credited Uzi and Enoch in helping get this latest album out– his first in five years. "When I got to completion and I said, 'I may or may not put this out; I'm not going to put this out; it's way too much,' I thought about my children. I thought about when they turn 21, or they're older in life, and when I got grandchildren, or if I'm long gone — this can be a prerequisite of how to cope. That's the beauty of it for me."
This article was originally published on